Light Your Life With Peace
I hope everyone had a Merry Christmas! As we finish the Light the World calendar, I invite you to join me next year as we focus on our own light. I call it "Light Your Life With Peace."

As I have been studying my scriptures, I have a felt the spirit whisper to focus on Jesus Christ as the Prince of Peace. Inspired by the church's 2017 for Easter Called "Prince of Peace" I am building on that framework and focusing on 12 principles of peace to help us individually fill our oil lamps with God's peace.
I have created a PDF notebook for you as we study the 12 principles of faith. Each month we will focus on a new principle. I will post monthly a few thoughts about that principle, but the real revelation will come to each of us personally as we "search, ponder and pray" about what we are studying. The Lord has so much to give us in wisdom, strength, knowledge and more as he prepares our hearts to help gather his children safely home and that starts with strengthening ourselves.
Will you join me? Watch or just listen to the video below and subscribe to download the PDF file for free
Join our Facebook Group as well as we discuss, inspire and uplift each other through 2022 and be better prepared to "Light the World" next December.
Make sure to Subscribe to our Email Community so you don't miss what's happening on Brightly Street!
The Christmas Story Told By 100 Children from Around the World from the Bible.
A Special Christmas Gift from Brightly Street. Enjoy this Family Christmas Activity kit for Christmas Eve or Christmas Day to focus on the nativity story. Subscribe below and we will email you the printable kit for free! Merry Christmas!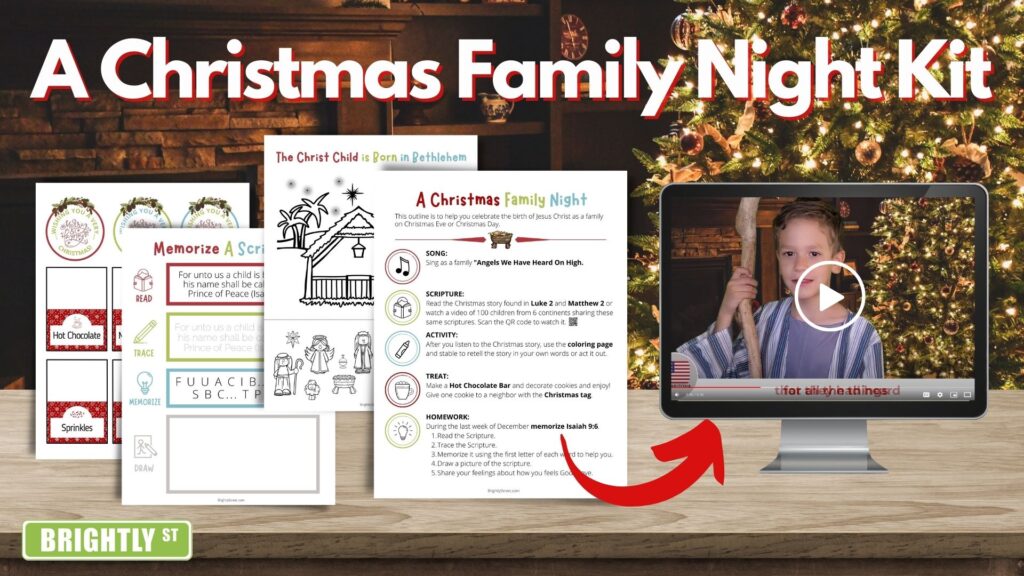 ---
Light The World With Love for Kids!
Everyday we will unlock a FREE PRINTABLE in our Facebook Group!! You can also pick up the entire kit today in our Etsy Store.

Go to our Facebook Group called "Light the World for Kids" and add your email address when you ask to join. All printables will be posted in the group.
Shop Our Etsy Store Today!