Easter is just around the corner and we have some fantastic ways to make the most out of this season as we reflect on the true meaning of Easter.  Yes, bunnies and eggs are fun but just like Santa doesn't make Christmas, Easter is more than the Easter bunny.
Christians around the world come together to celebrate the life, teachings, sacrifice, death and finally the resurrection of Jesus Christ.  I love the scripture found in Isaiah 9:6 that is often quoted during the Christmas season.  It reads,
"For unto us a child is born, unto us a son is given: and the government shall be upon his shoulder: and his name shall be called Wonderful, Counsellor, The mighty God, The everlasting Father, The Prince of Peace."  This Easter, we will be focusing on the final statement in this scripture…Prince of Peace.
Download the printable below.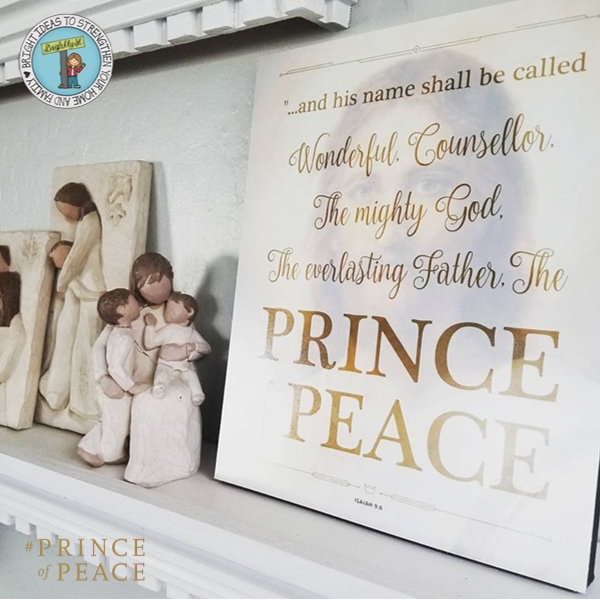 The world seems to be increasing towards hate, intolerance and anger.  In contrast, Christ came to earth to preach just the opposite, peace.  How can we find calm and peace in such a world when pointing fingers, degradation and insults are as common as the air we breathe?
I have the secret… it is through Jesus Christ, the Prince of Peace that we can experience true peace.  As we look towards Jesus Christ and attempt to follow in his footsteps, we can uplift the brokenhearted, extend a hand of mercy and bring peace to those around us.
Over the next several weeks, we will be sharing stories about people who, to me, have exemplified one of following eight core principles of peace.  Here is a snap shot of a few of those stories that we will be posting during Easter week.
Find out how COMPASSION can be found during a horrific battlefield.
Find the power of PRAYER that can strengthen and call down the powers of heaven when struck by a life changing illness.
Find HOPE in fleeing a war-torn country.
Feel the power of GOD'S WORD save the life of someone in need.
And more!  Make sure to subscribe and follow us on our social networks to know when they will be available.  We can't wait to open our hearts to you and share a bit of what we have learned from our own stories and those we love.
No matter what religion you belong too, we can all learn and increase our capacities to have more:
Click on each of the 8 Principles to go to watch videos, music, activities and more free printables.
During Christmas our interactive advent calendar was a huge hit, so we decided to make one similar for Easter as we highlight the 8 principles above.  To get ready for Holy Week, follow these simple instructions.  You can either do #1 or #2, they are basically used for the same thing.
1.  Banner – Print on white card stock, cut, and attach to ribbon or string.  Make sure to print the first two pages with the QR code on the backside. Click on the image to download the banner.  Need it in Spanish?  No, problema, we have that too, click here.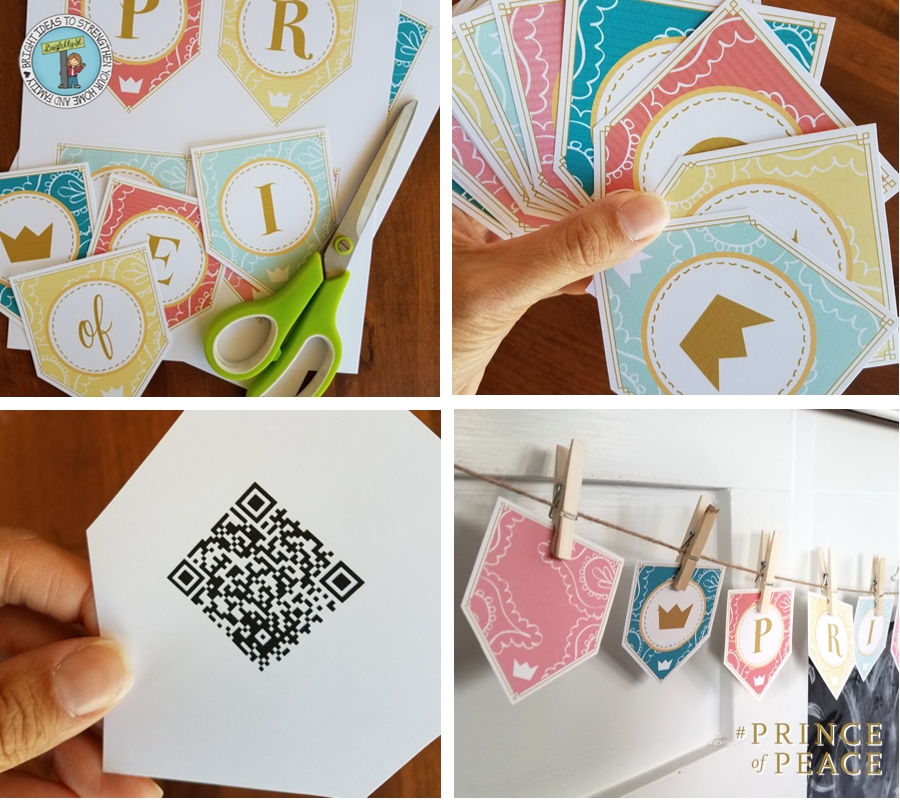 2.  Puzzle of Jesus Christ – Print on card stock (laminate for durability if you wish) and cut out the pieces.  Make sure to print double sided.  Each day add a puzzle piece after you scan the QR on the backside or put the pieces together and then take one off everyday.  Teach your children that as we follow Jesus Christ step-by-step or piece-by-piece we can find more Peace in this life!  We also have the Puzzle in Spanish, download it here.
Click on the image below.
3.  Coloring Pages – If you have little kids or even teens, they will enjoy coloring a page while listening to a song or lesson you are teaching about this principle.  Using the first letter of each of the principles, color in the letter.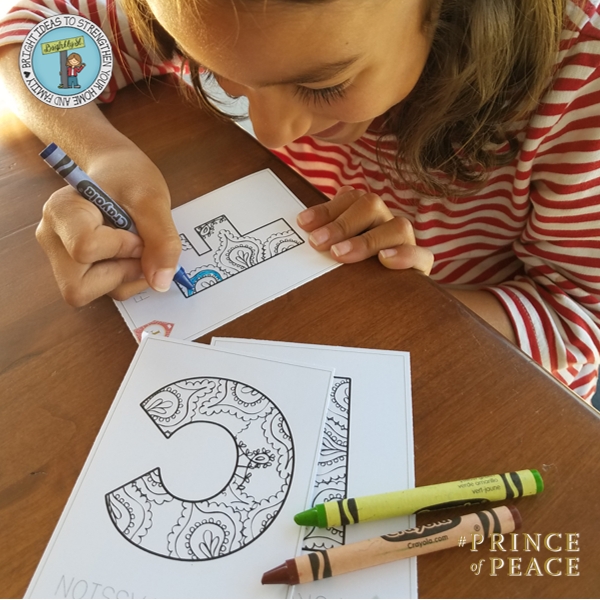 4.  Play-doh Cards – For the tiny tots, print out these principle letters and have your child roll up play-doh balls and place them on the letter as they listen about how Jesus Christ is the #PRINCEofPEACE.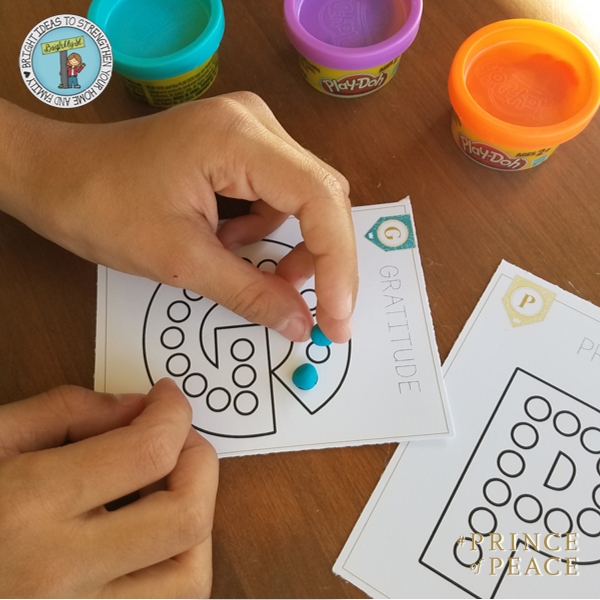 5.  Playing Cards – Each time you work on one of the 8 Principles of Peace, pick the coordinating card and fill it out.  Add the name of a person you know that is an example of that principle and then draw their picture.  Use these cards to play a game like "Go Fish, for Peace!"  Have all the kids gather their cards together and then play the game!  This is a great way to follow up about all of the lessons learned during Easter week.
Download the Playing Cards here.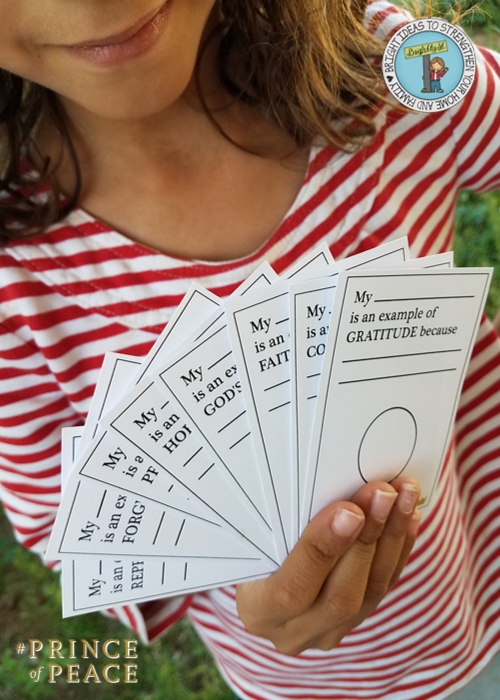 The principles of peace that we will be focusing on this Easter will help you reflect upon your own life.  We hope you will join us in sharing your stories with us as well.  Please leave a comment on one of the 8 Principles of Peace posts or share your story on our Facebook Page.  Use the hashtag #PRINCEofPEACE as you tell your tale on social media.  For more inspiring videos, visit Mormon.org.
View in SPANISH the above post and downloads.