Say Goodbye to 3 Hours of Church
Today is the first day in over 40 years where I only went to church for 2 hours, no I did not leave the Church of Jesus Christ of Latter-day Saints, in fact, my faith in the gospel of Jesus Christ is more firmly planted then ever before.  With this new shift in home-centered church-supported curriculum, we loose an hour at church and are given an opportunity to use that time to strenghten our own families at home.  You can think of it as being called to be a Sunday School or Primary children where all the kids in your class are now from your own family.
With this added responsibility for parents, it can seem like a daunting task.  For months, I have been thinking, pondering, brainstorming and planning what it is I wanted to do with my own kids.  I am a creative person by nature and so all kinds of possibilites were shooting so fast through my head.  I could draw, design and create printables, journals, charts, storybooks, craft ideas and more.  The skies the limit right?  I would do anything to get my kids more engaged in the scriptures and grasp the promised blessings given to us from the prophet when he said that this new curriculum "has the potential to unleash the power of families, as each family follows through conscientiously and carefully to transform their home into a sanctuary of faith."
Unlesh the Power of Families
Unlesh the power of families??  Really? Oh, boy did I need that.  Think of it… what is a leash good for?  Usually you would attach it to a dog while you are outside taking a walk.  That leash keeps the dog from running off.  Now think of it in terms of what the prophet said about potential blessings.  "Unlesh the power"  who is holding us back, keeping us leashed and being provented from power?  I think it is ourselves.  Whatever is holding us back, who holds the leash that is keeping families from gaining power on high… distractions of the internet, social media, work, selfishness, we could go on and on.  Yet, as we strive to follow the prophet's counsel and ultimately the Lord, we can cut the leash on our families and bring power and great blessings to our families.  What would happen if you let go of the leash when it is attached to a dog that is trying to pull you in one direction?  It would charge forward at high speeds.  That's what it means to me to "unleash the power of families."  What that spurt of energy, light and truth will look like, I am not sure, but I am excited to see what the Lord can do as we put our hands in his and follow a humble prophet.
So today, we started.  We went to church for 2 hours and I saw my first glimpse into a more simplificty Sunday church service.  I felt a power of the spirit that was there more abundantly than I have ever seen in a 3 hour block.  It wass almost as if the Lord opened the windows of heaven and poured out his blessing because he knew we had a shorter time period yet wanted us to still feel an abundance of his love and spirit.
Lessons Learned from a Six Year Old
I subed for my son's six year old primary class today.  I had a semi thoughtout plan but wasn't too worried about it, the lesson was simple I had been studying the individual study for Come Follow Me that week and so I was ready, and really 25 minutes seemed like a piece of cake compared to teaching Sunbeams for almost an hour.  The first thing it mentioned in the Primary manual was a section called "Invite Sharing" It said, "At the beginning of each class, give the children opportunities to share what they are learning about the gospel. For example, this week you could invite them to share their favorite stories about Jesus Christ."
I asked the class that question… what was their favorite story about Jesus?  Now remember these children are only six.  A boy raised his hand right away and said, the story about Jesus on the cross.  I thought wow that's pretty deep for their favorite Jesus story.  I began to question the children about what that meant when Christ was on the cross.  Oh, how I wish I could of had a recording of the entire conversation for that was what it was.  I opened my mouth and the spirit spoke to those children.  Thoughts, stories, scriptures and how to explain it to the children in a way that they would understand floaded my mind.  As we talked about the sacrifice of Jesus Christ and his visit to the Americas, the spirit was overwhelming.  I stopped and then spoke about what the spirit felt like since usually if I am feeling it maybe one of the children might be feeling it as well but might not recognize it.  As I spoke about how the spirit feels when we speak of truth, I gave an example of how sometimes I get a warm feeling inside or even goosebumps, one of the little girl's shouted and said, "I see your goosebumps!"
It was a sacred experience and one I will not soon forget.  All nine pairs of eyes were glued to me for 20 minutes as I shared testimony and scriptures about what the story on "the cross" means to them and how they as a little six year old was impacted by the atonement, death and resurrection of the Savior.  It wasn't me, it was the spirit that I could see touch them.  Their eyes were bright and truth was being taught to their hearts.  I was just blessed to be there among them.
I walked away from that class uplifted and excited to teach my own children at home from my heart.  Of course, now Satan was on to my gameplan and probably was not happy about what happened in that little primary room and after waiting for a few hours for my husband to come home from clerk responsiblities at home, I could feel Satan's pull of contention.
Christ Centered Home
As my "ideal" Christ centered home was falling apart before we even got started, I sat, cried and prayed.  I was angry and mad.  As I sat there in my sadness, I had a thought, "don't let him win."  A long story short, we rallied the kids together, put my trust in the Lord and my husband and I taught our children about the parable of the sower and how we can prepare ourselves to learn from the scriptures.  It wasn't perfect, it didn't look like any of the brainstorming or thoughts that were running through my head, but we did it.  After we prayed and were getting ready to drive to my sister's house for dinner, I said a quiet prayer in my heart that the Lord would enlarge our efforts and make it better.  I felt a power of love and acceptance of our measly attempt to follow the prophet's voice in huge abundance, I knew it was enough and He would help me continue to strive to follow Him.  I knew He had blessed my attempt, I felt it.
I have learned just from this first experience that the Lord has great blessings in store for us, we just need to take those baby steps forward to follow him and he will touch the hearts of our children.  We are the creators of the soil for our children.  As we do our part, the Lord's seed of the doctrine of Christ will take root, it may not be fast, but nothing ever grows overnight, yet in the end it still grows.  My knew matra is that I will trust in his eternal purposes and plan for our family and try to harken to his call to "Come Follow Me."
Free Printable
If you are curious about what our lesson looked like here are a couple ideas, nothing fancy super simple and I think that's why it worked!  I would love to hear how your lessons went too.  This is a work in progress and I am sure we will change it up and refine it as the spirit directs.  That's the coolest thing, just letting the spirit direct.  Most of these ideas came in the moment, even the printable I motified the idea on the spot.  Don't be afraid to try new things and either keep it or throw it out.
After all that thinking like I mentioned before, I never was able to nail down one idea until this morning as soon as I woke up!  Nothing like last minute inspiration, but thankfully and what I have noticed is a trend of the spirit was a very simple idea.  The inspiration was to use the picture that is already in the Come Follow Me for Families booklet and put it on the wall with a fill in the blank thought that really is the focus of why we are studying the life of Jesus Christ this year.  The first sentence simply says "Jesus taught us…"  and the other one is "We can follow Jesus…"
At the end of our lesson, I asked the kids what the Savior wanted us to learn about in the parable of the sower and then how can we apply it into our daily life.  Two of my kids filled in the answers and then we all committed individually to do what we wrote down for the week.  We attached it to the wall in our kitchen with tape and will leave it there as a reminder of what we talked about and what our goal or "steps" will be during the week to follow Jesus.  We will then add to our kitchen wall each week and leave them all up to see how we are learning and following Jesus Christ through the year!  If you would like to join us and use this simple idea, you can click on the image below and use it too.  I will post a new one each week, hopefully sooner than Sunday now that I have the idea already!  Make sure to subscribe to our website, follow us on facebook and instagram to grab your free weekly printable.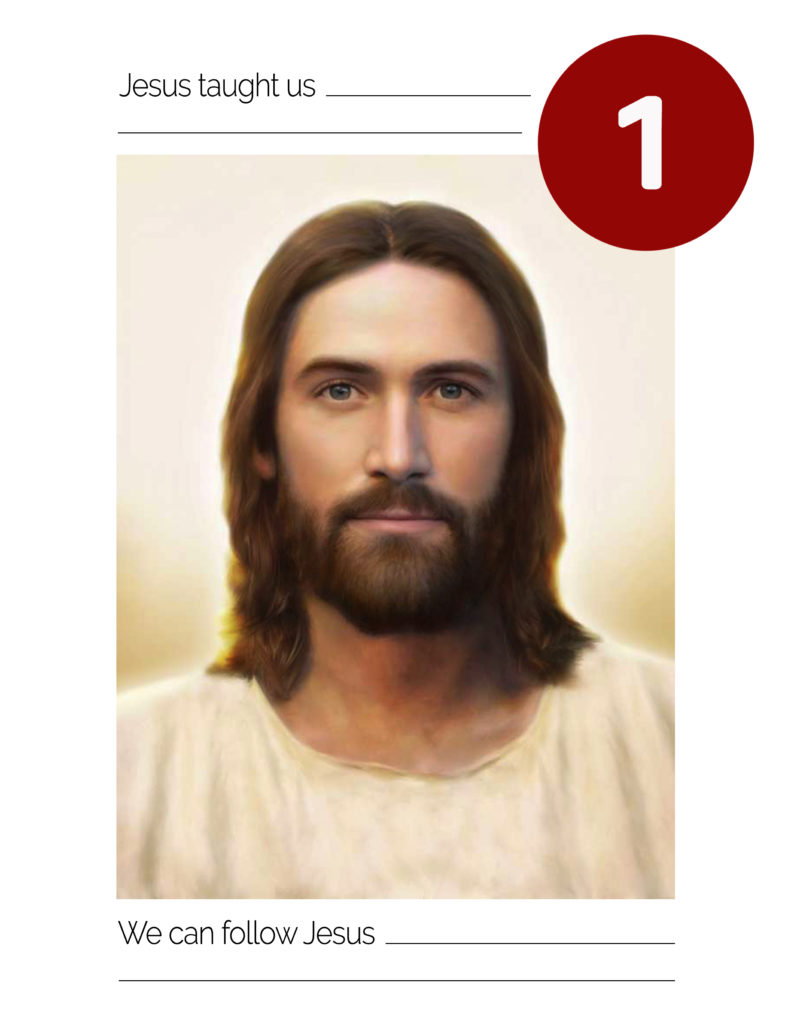 More Ideas
Before we started the lesson, I grabbed a king size sheet from the closet and we layed it on the floor as I told them this was our magic learning sheet.  My 15 year old rolled his eyes and my 3 year old jumped up and down and clapped.  Teaching to five kids from 3 to 15 is no easy task, but we as parents must take the challenge, even if there is a bit of eye rolling!  The rule was they had to sit on their rear and at least one toe needed to be on the sheet.  I needed to give my kids perimeters or they would be running around all over.  It worked even if my teenager only had a toe on it, at least it was a toe!  (This is a very candid picture, my kids had no idea I was taking it much less my husband or that I would be posting it, but I think it is a good induction that it can be simple and easy too!)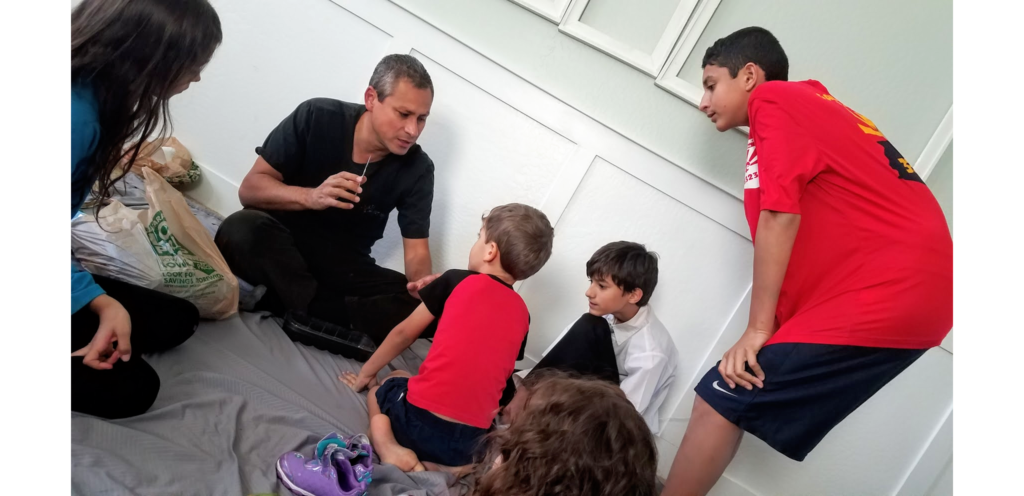 We started singing the "Come Follow Me" song that the kids were working on in Primary today and I gave them each a chalkboard.  We began to sing and when I said "stop" they had to stop singing and write on their chalkboards the next word or phrase in the song.  It totally worked and kept them engaged.
To help with the lesson as I read from the New Testament about the parable of the sower, I had the kids work on one printable together.  The first person was given a clipboard with a printable on it and colored pencils.  They were given a square and as I read and taught them the parable they were suppose to illustrate the part I was teaching until I said "stop."  It was then passed on to the next person and then I continued the story until we were done and everyone had a chance to draw there part of the story.  It was fun and kept the kids listening and engaged.  At the end, we shared the combined picture that they did together.  It was a great lesson on teamwork too!  For the future, I am just going to just make a page with the boxes and not worry about drawing a picture that takes too much time and I am trying to simplify it!  It wasn't necessary either, they didn't care about it just their little square.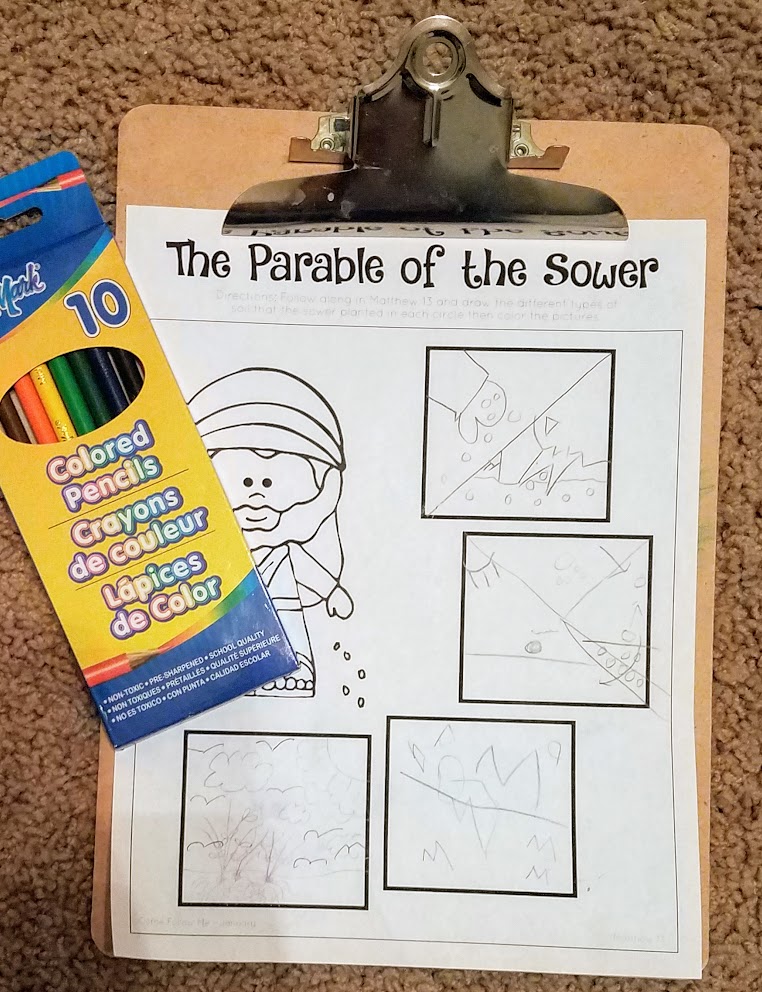 Podcast
My two friends and I also started a podcast where we discuss recent General Conference talks and the new Come Follow Me curriculum.  If you would like to hear some thoughts on the Parable of the Sower, you can listen to it on iTunes or on Google Podcast.