Finding our true identity in life can be a long and sometimes a difficult journey.  On the other hand, your image, which means the general impression that a person portrays to others, can be defined quickly by others based on your outside behavior or appearance.
I remember when I was growing up in my parent's home, my dad would often teach us about choices.  He would talk about how important our choice of friends would be to us.  He would encourage us to surround ourselves with friends that would uplift and bless our lives.  My dad would compare the influence of others on us by comparing us to a duck.  He said that just as a duck would follow the person in front of them, we too can be led to believe things about ourselves that is not who we truly are or our true identity.  Our image would be blurred by the influence of others.
My dad would say, "If it quacks like a duck and walks like a duck then it must be a duck."  He was teaching us that even if we were not a "duck" others would assume that is what we were if we acted like one.  To me, this meant that I needed to come to understand who I should be following so that I could act in a way that would allow my true identity to shine through.
The video below describes the difference between your true identity and your image.  Nathan Mitchell's explanation reminded me of my father's duck story.  Although we may at times follow the crowd, does that define who we are?
There is a scripture that talks about our image and poses a very important question, "Have you received his image in your countenance?"  What does that really mean?  Here is what James E. Faust shared about his experience in Jerusalem and that "countenance" that can shine forth.
He said, "I recently recalled a historic meeting in Jerusalem about 17 years ago. It was regarding the lease for the land on which the Brigham Young University's Jerusalem Center for Near Eastern Studies was later built. Before this lease could be signed, President Ezra Taft Benson and Elder Jeffrey R. Holland, then president of Brigham Young University, agreed with the Israeli government on behalf of the Church and the university not to proselyte in Israel.
"You might wonder why we agreed not to proselyte. We were required to do so in order to get the building permit to build that magnificent building which stands in the historic city of Jerusalem. To our knowledge, the Church and BYU have scrupulously and honorably kept that nonproselyting commitment. After the lease had been signed, one of our friends insightfully remarked, 'Oh, we know that you are not going to proselyte, but what are you going to do about the light that is in their eyes?' He was referring to our students who were studying in Israel" (in Conference Report, Oct. 2005).
That light in their eyes was reflecting their true identity as children of God and it could not be denied, it reflected the love and image of Christ through their actions.  They knew that their image alone wasn't enough.
I often feel like my whole purpose on the earth is a great battle between my "natural" self and my "spiritual" self.  Natural meaning carnal and susceptible to the physical body's needs and desires where the spiritual part of me always has a longing to return to Christ and follow His footsteps continually.
It also says in scripture that, "a natural man is an enemy to God… unless he yields to the enticings of the Holy Spirit, and putteth off the natural man… and becometh as a child, submissive, meek, humble, patient, full of love, willing to submit to all things which the Lord seeth fit to inflict upon him, even as a child doth submit to his father."
I have always felt that my spirit was willing and able but my "natural" self or body was just a few steps behind.  I believe that as we continue to strive to be more like our elder brother, Jesus Christ, through meekness, humility, love and everything else mentioned above, that we truly can "put off" the natural man and become a disciple of Jesus Christ through his unwavering love and atoning sacrifice.
But where do we begin?  In order to make course corrections, we must first learn about whose image we must have in our countenance and that starts with a few key questions that were mentioned in the above video:
Do you know why you are here?
Where did you come from?
Who are you?
As I child, the answer to these questions were instilled into my heart at a very young age.  I can't remember when I ever did not know the song "I Am a Child of God."  That song alone answers the question of what a child of God's true identity is.
"I am a child of God, And he has sent me here, Has given me an earthly home, With parents kind and dear.
I am a child of God, And so my needs are great; Help me to understand his words, Before it grows too late.
I am a child of God. Rich blessings are in store; If I but learn to do his will, I'll live with him once more.
Lead me, guide me, walk beside me, Help me find the way. Teach me all that I must do, To live with him someday."
In a world of changing fashions, opinions, values and just about everything, it can become difficult to maneuver through the waters of life.  We become distracted, disappointed and abandoned.   I love the movie Moana and this one song from the movie fits perfectly.  It talks about how we can loose our way and forget who we are.
In the story of Moana they are trying to put the heart back into Taviti.  She has become a lava monster that wants to destroy life, yet Moana realizes that, that is not who she truly is.  Taviti has forgotten who she was because her "heart" was stolen.  Sometimes we allow our "hearts" to turn cold or stolen whether through poor choices, tragedies or trials of mortality.  In those moments of "coldness", we must turn to the healer of all wounds, Jesus Christ.  He will help us change and heal our hearts.
"Here are the words to this song, "I have crossed the horizon to find you.  I know your name.  I may have stolen the heart from inside you. But this does not define you.  This is not who you are.  You know who you are."
Just as we sometimes let others define us, our image can become cloudy and unclear to our true identity.  I am so grateful that there is always one who sees us clearly and who will remind us of who we really are.  
In February, I was invited to speak at an 11 Stake Youth Conference in the Bay Area.  There were about 1000 teens at this event.  In preparing for my "Spy Training" class about the Sabbath day, we were driving along the road after setting up the night before.  I looked out my window and noticed the beautiful rolling hills that were so very green.  My entire window was filled with this beautiful scenery made more beautiful to me since I live in the desert of Arizona.  I took a picture with my phone, hoping to capture the beauty that I saw.  When I looked at the picture, this is what I saw.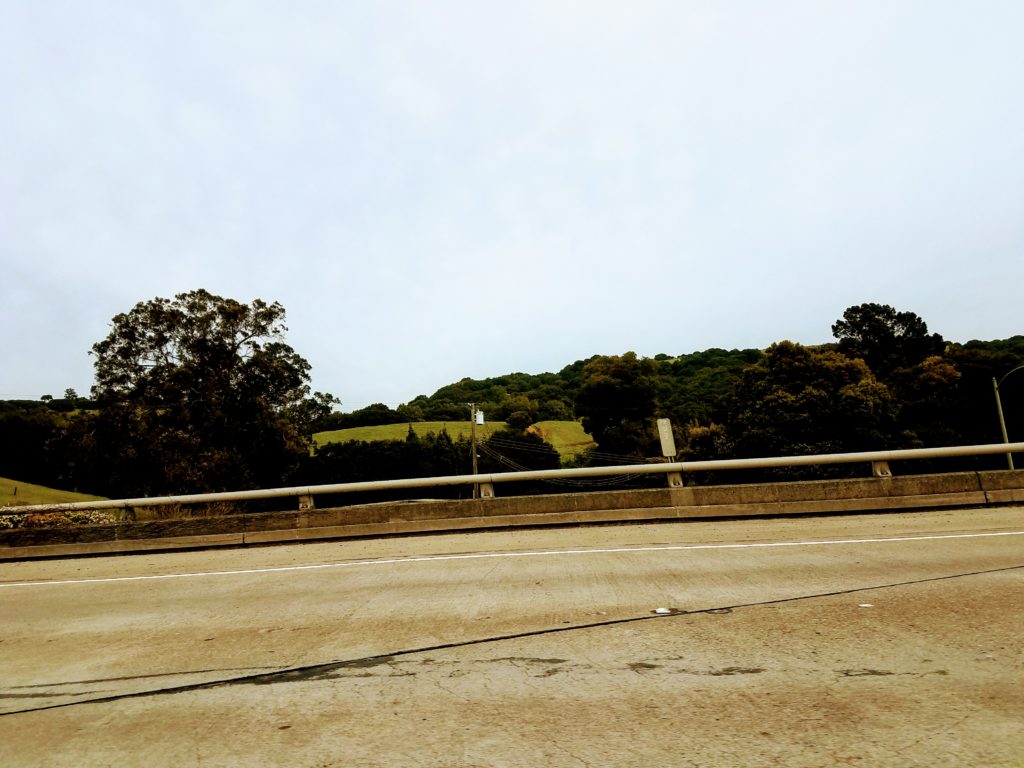 Not too impressive right?  Then the lesson came… what I was seeing through the window was the full picture of the beautiful scenery.  This is how God sees us not with all our flaws and blemishes that we seem to amplify daily towards ourselves, but he sees the big picture.  He can see us as we truly are, our true identity.
If we will allow him to guide and direct us, we will come to understand our true potential and infinite blessings ahead of us.  Otherwise, we are stuck with our view from the phone that gives us only a part of the truth.  Our greatness and worth are immeasurable because we truly are sons and daughters of a God!  His work and His glory is to "bring to pass the immortality and eternal life of man."  That's you and that's me!
Having a knowledge that God can see me clearly, gives me strength and comfort when the daily battles of being a mother of 5 young children can be exhausting, difficult and challenging.  That is why the inspiration to "just breath" has been a miracle in my life.  Funny how "by small and simple things are great things brought to pass."
No, let's go back to the duck idea.  In a world that labels everything from ingredients on the back of a cereal box to trying to fit children in a similar box with labels like Autism, ADHD, Asperger, etc, it can be even more difficult to overcome those barriers and remember what our true identity is.
I have a child that has some physical struggles, but just as Moana said, "this does not define you," I know that his struggles do not define him.  Although it can be helpful to understand the challenges our children and ourselves might have, limiting ourselves because of those struggles can be destructive to our spirits and our ability to push through our challenges.
Finally, to understand our "true identity," let's turn to the ancient prophet, Isaiah.  In this scripture he is writing about our relationship with Christ.  He quotes God by saying, "I have graven thee upon the palms of my hands."  That image of Christ's hands as a token of His love for us while He suffered on the cross, forces tears from my eyes.  His palms are always open towards us beckoning us to come unto Him.  As we put our trust and hands into His, he will show us who we are.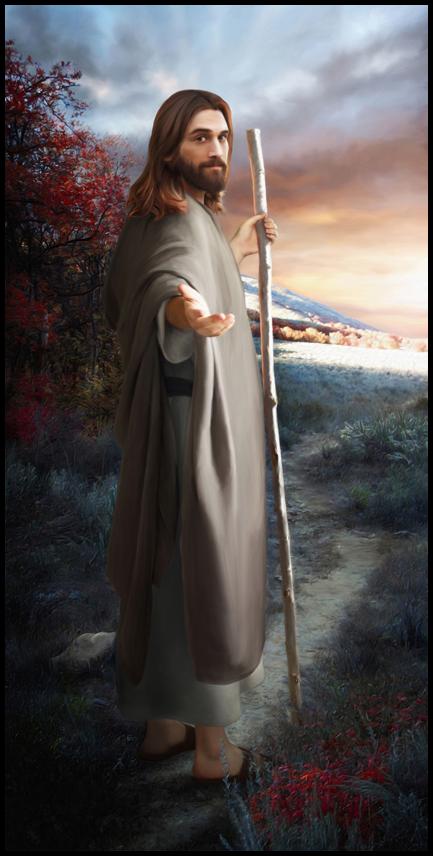 Painting above by Brent Borup.  Find more of his inspiring and beautiful paintings, here.