DAY 15: "Blessed are the merciful." Matthew 5:7
Reflection Journal Entry:  Download the entire 25 daily reflection journal as you fill your "light" from within and "light the world" throughout in December and into 2018.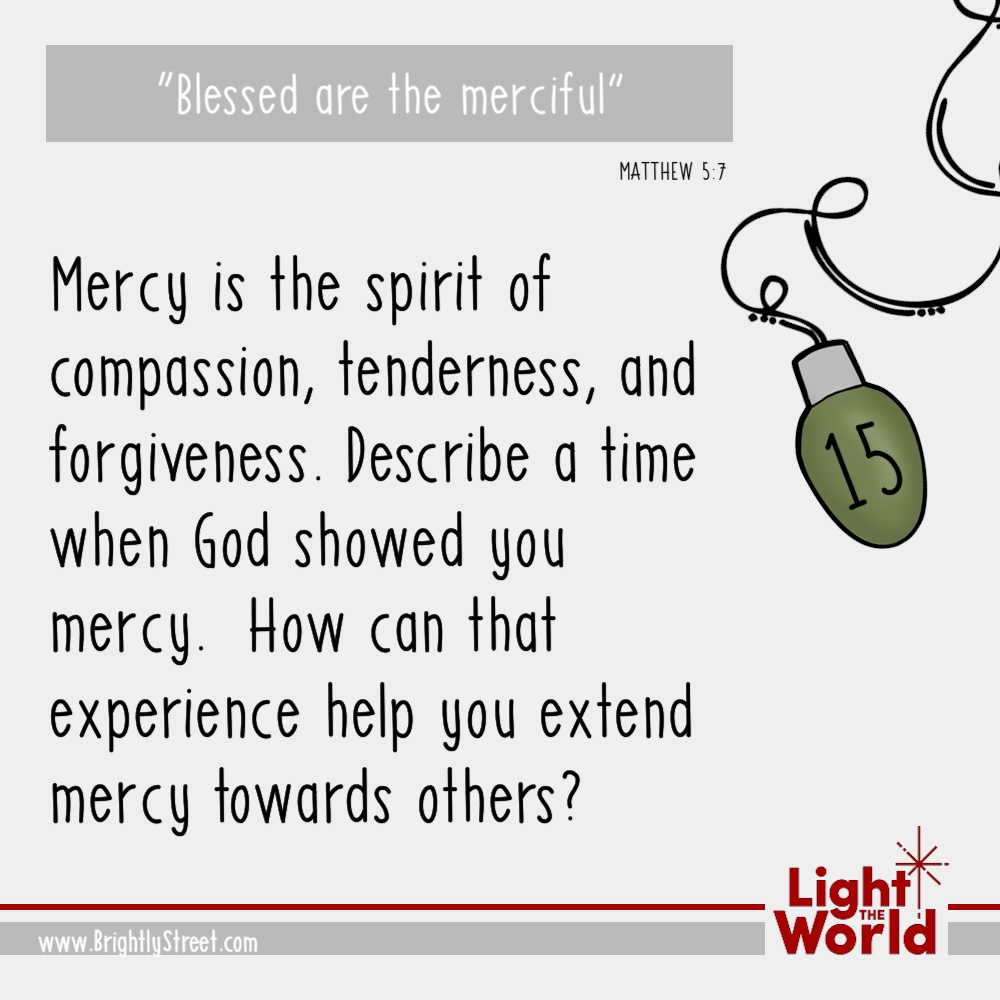 DAY 15:  Jesus Worshipped Through Song #LIGHTtheWORLD
Song:  Carols of the Bells
Scripture:  Matthew 1:18-25
Now the birth of Jesus Christ was con this wise: When as his mother Mary was espoused to Joseph, before they came together, she was found with child of the Holy Ghost.  Then Joseph her husband, being a just man, and not willing to make her a publick example, was minded to put her away privily.  But while he thought on these things, behold, the angel of the Lord appeared unto him in a dream, saying, Joseph, thou son of David, fear not to take unto thee Mary thy wife: for that which is conceived in her is of the Holy Ghost.
And she shall bring forth a son, and thou shalt call his name JESUS: for he shall save his people from their sins.  Now all this was done, that it might be fulfilled which was spoken of the Lord by the prophet, saying, Behold, a virgin shall be with child, and shall bring forth a son, and they shall call his name Emmanuel, which being interpreted is, God with us.
Then Joseph being raised from sleep did as the angel of the Lord had bidden him, and took unto him his wife: And knew her not till she had brought forth her firstborn son: and he called his name JESUS.
Video:   O Come, Emmanuel
Activity:  Go caroling with your family, friends or neighbors.  Afterwards, have them over for Hot Chocolate.  Print out any of our Hot Chocolate Bar food tags and sign below to use to decorate for your event!
Advent Gift Idea:  Add a candy cane to today's pocket to use in the evening during the Hot Chocolate party.  Candy canes are fun to dip into your hot chocolate.  If you don't want to use candy, you can a toy harmonica.  Talk about how we can praise God through music and be uplifted.
Want to put together the entire Christmas Advent Calendar?  Start with Step 1!
Follow us on FACEBOOK, INSTAGRAM, YOUTUBE, TWITTER and PINTEREST as well as Subscribe to our newsletter to get the inside scoop and subscriber only freebies!!