My first impression of the Abplanalp family occurred in 2015.  I went to a meeting about an upcoming Christmas campaign called "A Savior is Born."  After dinner, I heard a young voice sing a song from the movie "Once I Was a Beehive."  The voice belonged to a young girl named Evie Clair.  You might of recently seen her singing her heart out on America's Got Talent.  Later on, I would rub shoulders with her mother a few times over social media.
Funeral Service
Today, I attended the funeral for Amos Abplanalp, Evie's father, held in San Tan Valley.  Amos's wife, Hillary, has been keeping a daily Cancer journal online.  I stumbled upon it at the end of last year while working on a Christmas Advent Calendar where I featured Evie signing "Mary, Did You Know?"
During Easter, I created another advent calendar and included Evie again singing "Eye of the Tiger" in honor of her father who was battling cancer at the time.  When I read about Amos's passing on September 7th, I wept tears of sorrow for the family.  Their faith and courage are a testament to me of the power of Christ in a faithful family's life.
As I sat at the back of the chapel with my two young kids, my heart became full.  I started to take a few notes on what was being said.  I thought I would share a few thoughts with you that I gleaned from the funeral.  My hope is that that you might be uplifted and strengthened through your own trials and challenges.
After a touching introduction into Amos's life that brought laughter and tears, his sister Amos, shared a few thoughts about her brother.  There were a couple things that stood out to me.  First the fun story of her trying to teach her brother how to do a back flip when they were kids which didn't end very well.  She mentioned how Amos was always willing to try new things.  His older brother mentioned later on in the program how he always wanted to make others happy which ended up causing him to have a bald head after "the brother barbershop" didn't go as planned.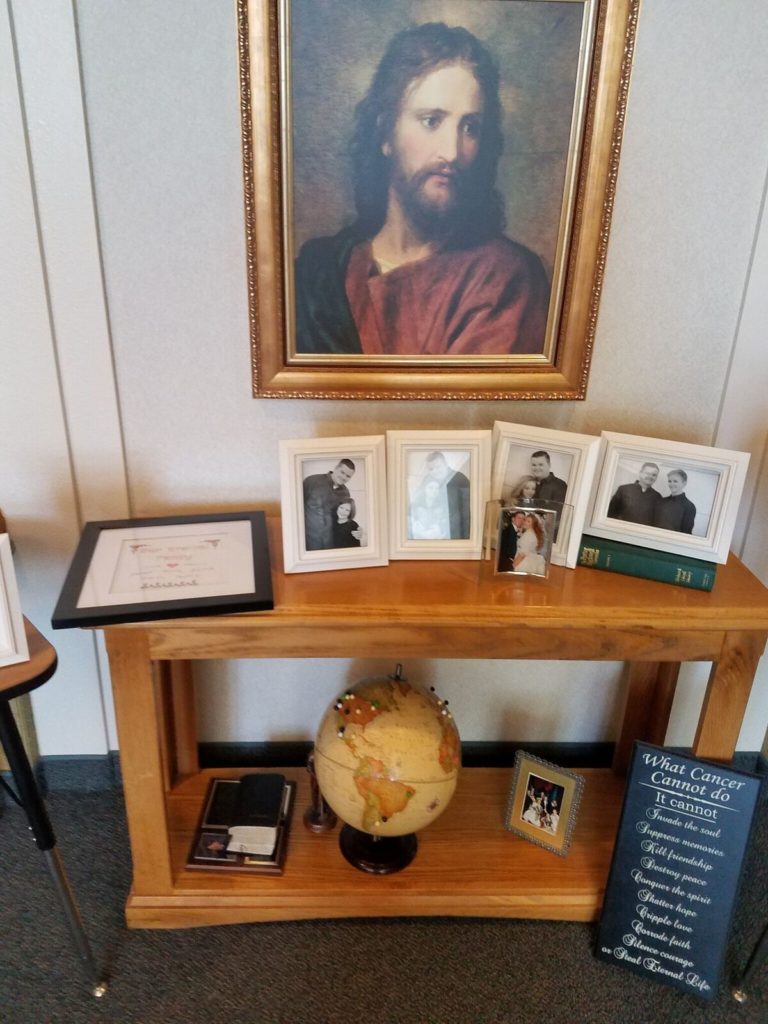 What Will Be Said of Me?
The thought that struck me during the funeral after hearing so many wonderful characteristics that exemplified Amos, was this… "What will be said of me?"  It kind of hit me light a lightning bolt.  When it is my turn to finish this earth life just like we all will pass through one day, what will my friends and family members be sharing about who I was?  Will there be love, kindness and faith spoken of about me or will I be remembered for not so charitable living?
As I continued to listen, the overall feeling that I felt was that Amos was a man of God, a good father and husband, a friend to all who knew him and that he was a follower of Jesus Christ.  I don't think there was a person there that did not want to be just like Amos.
One of the highlights from the funeral had to be when his two daughters bravely sang a song about heaven, families, the temple and fathers.  So much truth was shared in that song that spoke of the simple truths of the gospel of Jesus Christ.
That is one of the main differences between a funeral of a member of the Church of Jesus Christ of Latter-day Saints and others.   There is definitely sadness felt, but you will find an over arching peace and eternal perspective that isn't felt in many other places.  It was no different today.  Here is a video depicting some of the doctrines that were taught and believed by Amos.
Just like taught in this video, Jesus Christ made it possible so that Amos will be reunited eternally with his beautiful family one day.  I know that this is true.  I am grateful for families like the Abplanalp family who not only teach and speak of Christ but walk in his footsteps.
May we all ask ourselves the same question that pierced my heart today and make the changes necessary to experience joy and happiness not only in this life but in the life to come.
"What will be said of me?"