Are You Loved?
Have you ever wondered if you are loved, good enough or worth something to someone?  Kathryn Gordon's new book "You Are Loved" addresses this topic.  Through the life of Jesus Christ, heart-rending stories and her own experiences, she delivers a non-fiction book that will make you say, "YES!" to the first question in this post.
I love this quote from her book when she said, "The Father's love for you – for you – is so profound that you are wroth everything  Even the life of your Savior."  Wow, of course, I knew that but when I read that sentence, it just pierced my heart!  Yes, I am loved so much so that a perfect being, my Elder Brother, took it upon himself to give his life freely for me.  Unbelievable.
As much as the atonement and resurrection is unbelievable, it still happened.  It has blessed my life to know that I am never alone and never unloved.  I recently wrote an article about when I was at my own lowest point and how the power of the scriptures which is the word of God pulled me from despair replacing my darkness with light.
How does he love us so much?  Kathryn shares one of my most favorite scriptures found both in the Old Testament and in the Book of Mormon.  This is Isaiah when he writes the words that God said, "yet will I not forget thee.  Behold, I have graven thee upon the palms of my hands; thy wall are continually before me." (Isaiah 19:15-16)
I was shocked at some of the struggles that the author has had to face in her life and I admire the courage and determination she has to press onward.  She believes thatt what Elder Holland said is true "Christ is not going to turn his back on us now."  I have come to believe the same thing from my own personal experiences.
Although this isn't a large book, it is packed with the power to make you realize, if you haven't already or just need to be reminded, that "You Are Loved."  Kathryn said, "sometimes when you feel that the Lord is letting you down, you learn that He is actually lifting you up."
I know that God can and does lift us up and as we are lifted we must reach out and lift others.  Grab this book today and strengthen your own knowledge of God's love for you!
Not convinced yet?
Hop along our Book Review Blog Hop and see what other's are saying about this book.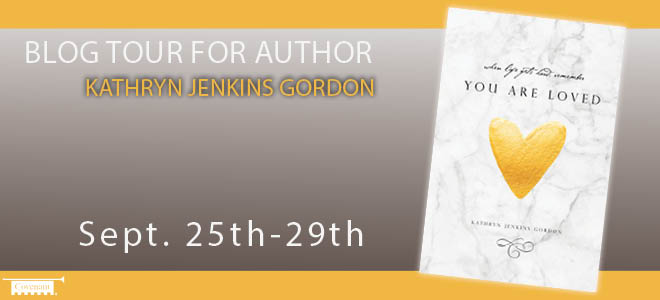 FREE Book Giveaway