About "Safe House" by Tracie Hunter Abramson
The guardians, the shadowy heroes of the top-secret program designed to protect members of the most elite government organizations, are being hunted down one by one. There is a single explanation: a traitor must be embedded somewhere in their midst. But if they themselves are the target, who will protect them?
CIA operative Renee Niezen has heard tales of the guardians, though she's never really believed in their existence— until she is approached by Charlotte, an old friend who desperately needs her help to stop the systematic destruction of the guardian program. Renee accepts the plea for assistance, but not everyone is thrilled to have her on the team. Kade—one of the last guardians standing—is unimpressed with Renee's qualifications and turns instead to the legendary Saint Squad for help. But when Renee is caught in the crosshairs, Kade must set aside his antagonism for the woman in order to protect her. Their grudging alliance soon develops into much more—but before the pair can examine their feelings, their investigation takes a dramatic twist. With lives on the line, Renee and Kade must use their spy training at every turn as they draw dangerously close to the shocking truth.
My Review
I am a HUGE fan of Tracie Hunter Abramson's books.  I think I own almost every single book she has written in either paperback or kindle version.  Her books grab you from the very beginning and pretty much suck the rest of your day away as you are caught up in the fast pace action of her novels.  In order to not neglect my 5 children, I try to start her books at night when they are asleep since I know I will not be able to put it down.
I have recently joined an Uncluttered Course with Joshua Becker from Becoming Minimalist website.  Last week, we worked on our bedrooms.  I have pared down my books over the years from 1000's of books to one apple box!  Guess what author I still have that has survived many, many book purging parties over the years?  Yes, Tracie Abramson!!  Here's the proof!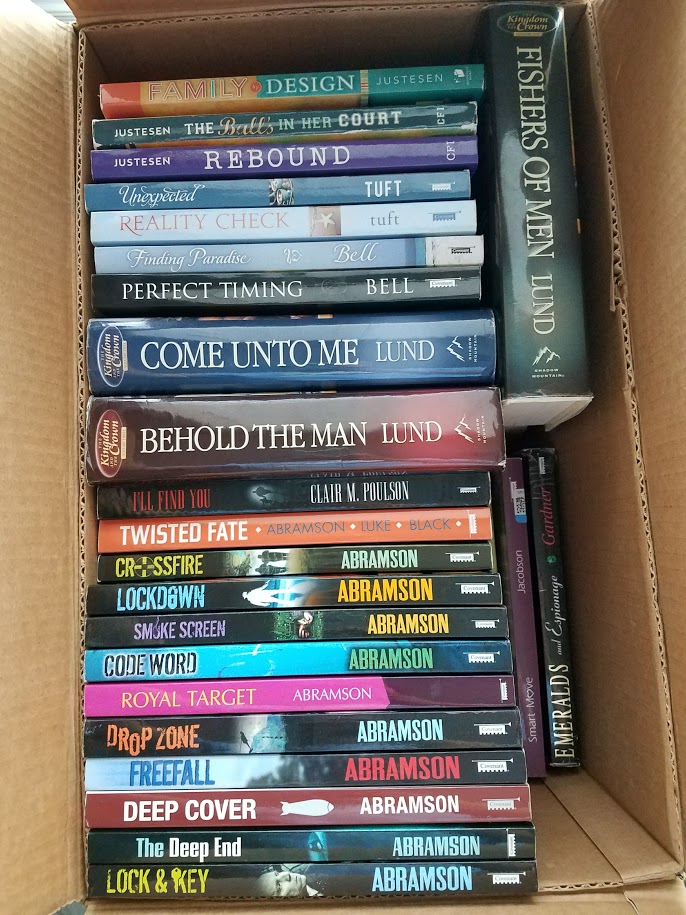 I finished her newest book called "Safe House."  I love how Tracie weaves her previous characters into a lot of her novels and this book did not disappoint even reaching to one of the first series she started with.  "Safe House" was another great novel that kept me turning pages all night.
It is a story about a CIA operative, Renee, and the Ghost, Kade.  There story twisted and turned as their  relationship grew throughout the novel.  The Saint Squad plays a large role in this novel as well and I loved having many of the other characters that I have come to love find their way into this book.
Tracie Abramson is definitely a page turner and her biggest downfall as an author is her ability for my inability to put her books down!  Can't wait to read more from this fantastic author.
I told my 14 year old son that I just finished her newest book and he said, "don't say anything else!"  He was excited to read it but didn't want me to give anything away.  He has read all of her books as well.
Now, it's your turn!  Go grab your own copy of her latest book today!
FREE Book Giveaway