Brothers
Joseph and Hyrum were two brothers bonded by faith, love and devotion to one another and to God.  My oldest boys are named after these two noble and great men that supported one another throughout their life and died together that fateful day on June 27, 1844 in Carthage Jail.
I just finished watching the new film titled "Carthage."  It tells the story of what was felt and shared during the final hours of Joseph and Hyrum's earthly life.  There brotherly bond is a perfect example of how we should love one another in families.  There devotion to each other and unwavering commitment to the cause of gospel of Jesus Christ leaves me feeling in awe of such loyalty.  I feel a renewed determination to strive to be more like them as I try and build my faith and strengthen my ability to always follow the Lord wherever that might take me.  They were true followers of Christ.
About the Film "Carthage"
"While seething mobs converged around them, the Prophet Joseph and his brethren quietly submitted themselves to imprisonment in Carthage Jail. Now, as never before, audiences are invited to witness the events of the days preceding the martyrdom. Based on documents handed down through the generations, Carthage offers a glimpse into the turmoil and testimony of the men whose place in history was forever defined by what was to come—a jailer seeking to protect his charges, a governor caught between the persecuted and their persecutors, and a group of Saints whose faith and brotherhood stands as the ultimate witness of the restoration of the gospel of Jesus Christ."
You can purchase the film here.
CARTHAGE Teaser from Ron Brough on Vimeo.
Traveling Across America
Last year, my family and I traveled from Arizona to Pennsylvania for the open house of the Philadelphia Temple.  Our family lived in Pennsylvania for 7 years before moving to Arizona.  We witnessed the groundbreaking of the temple and we planned to be there for the open house with our entire family.  It was an adventure we will never forget traveling in an old RV, breaking down three times, entertaining 5 children, mosquito infestation, water leaking and many unforgettable experiences.
On our way, we stopped in Independence, Missouri, Adam-ondi-Ahman, Liberty Jail, Nauvoo and Carthage as we headed east towards our destination.  We arrived in Carthage with only minutes to spare before they were to close.  We quickly went past the visitor center and entered Carthage Jail where Joseph and Hyrum were unjustly held before they were murdered in cold blood.
As we entered the room where the men were held, I felt an overwhelming feeling of power.  I know that these men were called of God.  You could feel it while standing in that room and walking the grounds of this historical site.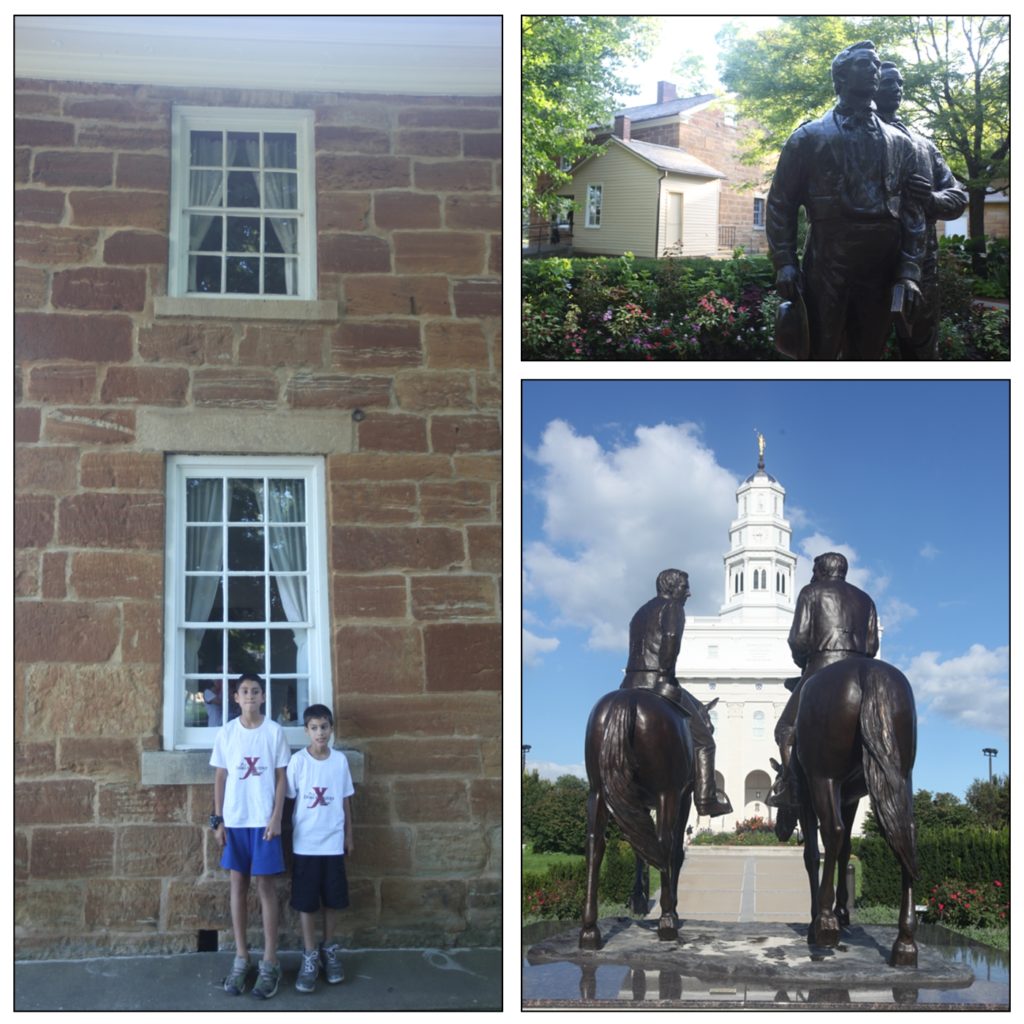 What's In a Name?
I named my boys after these two great men as did Helaman of the Book of Mormon name his two sons after Lehi and Nephi.  Helaman said, "Behold, I have given unto you the names of our first parents who came out of the land of Jerusalem; and this I have done that when you remember your names ye may remember them; and when ye remember them ye may remember their works; and when ye remember their works ye may know how that it is said, and also written, that they were good.  Therefore, my sons, I would that ye should do that which is good, that it may be said of you, and also written, even as it has been said and written of them."
I hope my boys will remember them and have a desire to follow in their footsteps to be humble, trustworthy and noble men of God.
This film will remind you of the prophet Joseph and his brother Hyrum's greatness.  I felt a renewed desire to be more faithful.  I want to one day stand with Joseph and Hyrum in testifying that  I too know that Jesus is the Christ.
What a wonderful film to share with your family and teach them what it means to stand for what is right no matter the cost.