Small Spaces for Building a Toy Room… Under the Stairs!
There is nothing better than
taking a dream
and making it a reality.  I love taking wood and turning it into something that my mind dreams up and attacking a toy room is top on the list of one of the
funnest projects to pull together
.  Through the years, I have created a few toy rooms.  Here are a few pictures from when I built a couple different playrooms in our PA house.  It was a huge house and so it was moved 3 times while we live there.  If I can find pictures of our huge playroom that had puzzle pieces on the wall, I will post.  I have to dig through CDs to locate them!  Does anyone even use CDs today?
Disclaimer:  I did not paint this mural.  My fantastic artist,, Carrie Kingsbury with Promiseland Art, who painted all my custom studio backdrops did and she is super fast and amazing.  You can see some of her work around the country on the east coast.  She is an incredible artist.  You can see her work here.
This was toy room 2 in our home in Pennsylvania.  We ended up changing this room into a guest bedroom and moving the playroom upstairs to our other guest room.  The next playroom had a great view of the lake in the backyard.  I started brainstorming ideas and came up with a Mayan ruin idea.  I hit the internet for ideas and loved the design work on the outside motif of the Rainforest Restaurant so I modeled that look and built this indoor playhouse.  I am pretty sure I was the first person to build a Mayan playhouse!  It was a fun project, but we only were able to enjoy it for 6 months before we ended up moving back across the country.  Here are some pictures from that fun project.
I remember skyping my dad who was living in Africa with my mom at the time and would get his opinion on the structure of the foundation so that it would hold our weight.  I had to redo it a few times, but it worked!!  You can read the original post here.  It was a messy project with all that Styrofoam, but it was fun to build it!  Flip through the pictures below to see the progress.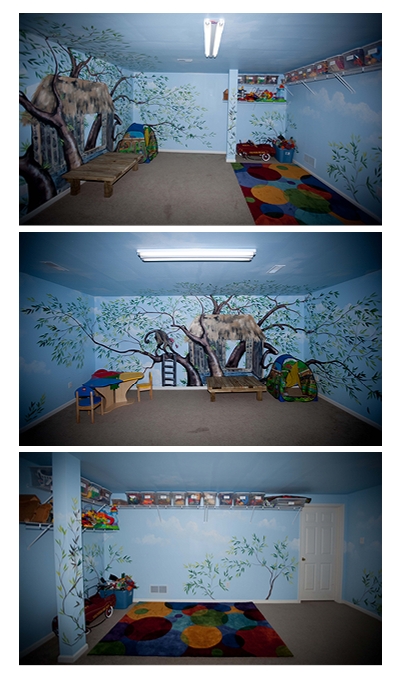 Once we bought a house again in Arizona, I
immediately started dreaming
about another Toy Room.  Our house was about quarter of the size of the home we built in PA so I had to get creative… thus the
under the stairs space
!
Every time I begin a project, I start by sketching out a few ideas.  Then I used left over wood from when I helped my dad build a ship for my exhibit at Rootstech.  You can check out that fun project here.  This little playroom only cost me only a few dollars in paint since I used all scrap wood to build the playhouse and then I found a few baskets at the Goodwill.  Spray paint can make anything look great.  This was the end result from our under the stairs toy room!
I used the folding table that attaches to the wall and saves floor space that I built before for our homeschool room.  I love re-purposing things I built.   
Please share your toy room, toy corner and toy space on our Facebook Page!!