Happy St. Patrick's Day
With everyone out of school and probably crawling the walls at this point, it is time to get those busy hands and busy brains to work!  St. Patrick's Day is almost here or if you are reading this on St. Patrick's Day, "Happy St. Patrick's Day!"  I may not be Irish, but I can appreciate a day of fun for the family especially the kids.
Growing up my mom always made every holiday, big or small a blast.  For Valentine's Day, we had our traditional "red" dinner and St. Patrick's Day was all about green!  Here is a throw back picture from what the table looked like! No matter what your family traditions might be just make sure you create something to bring the family together and this year feel free to incorporate our St. Patrick's Day printables done-for-you!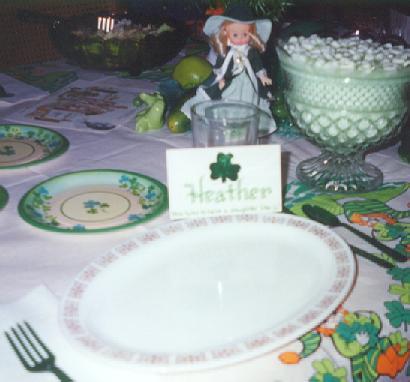 To help your kids have fun and give you time to prep dinner, lunch, do laundry or whatever other millions of things you as a parent have to do to keep the house running, I have created some fun printables for your kids.  The first kit is "Dress Up Your Leprechaun!"  You can download it for FREE below.  Also, if you SUBSCRIBE to our Website, you will also GET our girl leprechaun as well as a fun STORYBOARD kit with spaces for your child to create their own leprechaun adventures.  There are quote bubbles to cut, fill in and paste as well as different characters to add to the story!  You child will have lots of fun creating their very own St. Patrick's Day story.
If you do not already follow us on social media make sure to connect with us today!  We are working on many new changes here and can't wait for you to see what we have in store for you!