DAY 13:  "All things whatsoever ye would that men should do to you, do ye even so to them." Matthew 7:12
Video Coming Soon!
Reflection Journal Entry:  Download the entire 25 daily reflection journal as you fill your "light" from within and "light the world" throughout in December and into 2018.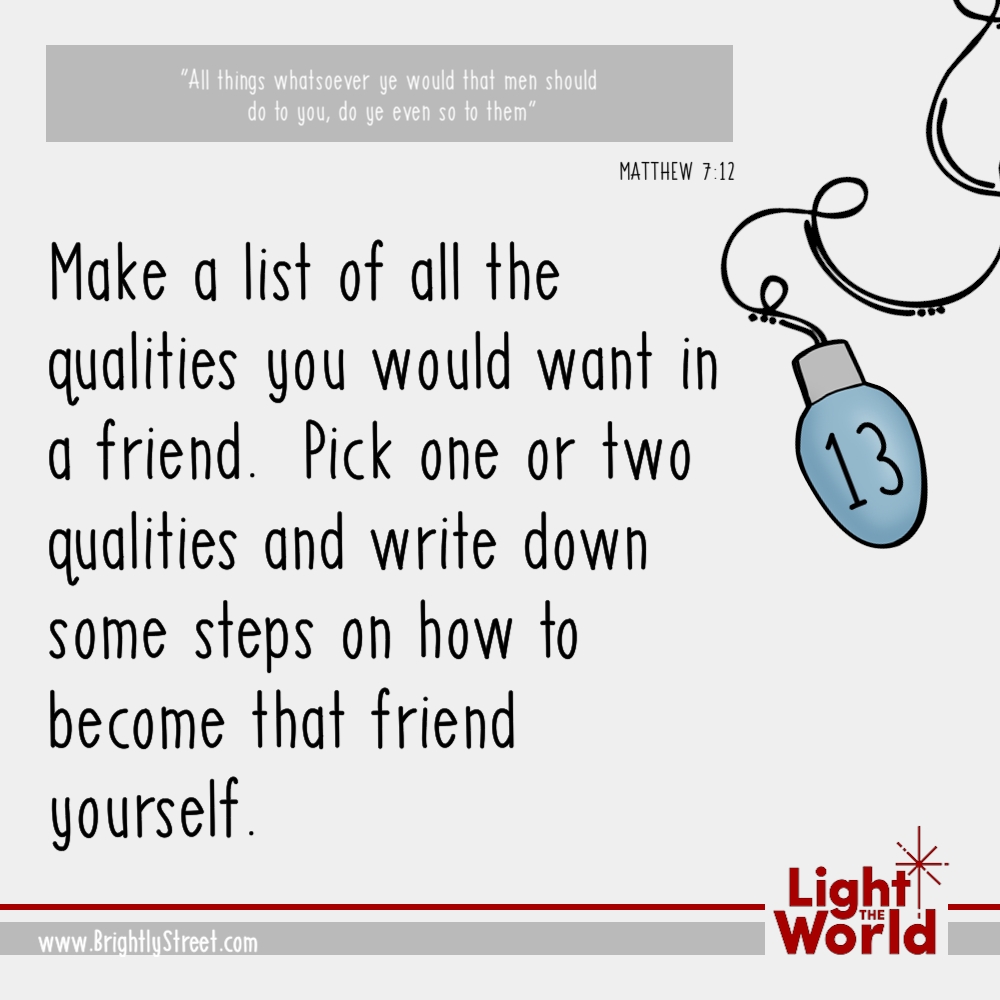 DAY 13:  Jesus Showed Humility #LIGHTtheWORLD
Song:  O Holy Night
Scripture:  Luke 1:26-38; 2:1-19; Matthew 1:20-21
And in the sixth month the angel Gabriel was sent from God unto a city of Galilee, named Nazareth, To a virgin espoused to a man whose name was Joseph, of the house of David; and the virgin's name was Mary.  And the angel came in unto her, and said, Hail, thou that art highly favoured, the Lord is with thee: blessed art thou among women.  And when she saw him, she was troubled at his saying, and cast in her mind what manner of salutation this should be.
And the angel said unto her, Fear not, Mary: for thou hast found favour with God.  And, behold, thou shalt conceive in thy womb, and bring forth a son, and shalt call his name Jesus. He shall be great, and shall be called the Son of the Highest: and the Lord God shall give unto him the throne of his father David: And he shall reign over the house of Jacob for ever; and of his kingdom there shall be no end.
Then said Mary unto the angel, How shall this be, seeing I know not a man?  And the angel answered and said unto her, The Holy Ghost shall come upon thee, and the power of the Highest shall overshadow thee: therefore also that holy thing which shall be born of thee shall be called the Son of God.  And, behold, thy cousin Elisabeth, she hath also conceived a son in her old age: and this is the sixth month with her, who was called barren.  For with God nothing shall be impossible.
And Mary said, Behold the handmaid of the Lord; be it unto me according to thy word. And the angel departed from her.
Video:   The Nativity
Activity:  Share an experience with loved ones about a time you had to rely on God's help.
Advent Gift Idea:  Place a small container of play dough in day 13's pocket.  Play with the play dough and talk about how, if we are humble, that Jesus Christ can help shape and mold us into the person we want to be.
Want to put together the entire Christmas Advent Calendar?  Start with Step 1!
Follow us on FACEBOOK, INSTAGRAM, YOUTUBE, TWITTER and PINTEREST as well as Subscribe to our newsletter to get the inside scoop and subscriber only freebies!!