DAY 11:  "I was a stranger, and ye took me in." Matthew 25:35
Reflection Journal Entry:  Download the entire 25 daily reflection journal as you fill your "light" from within and "light the world" throughout in December and into 2018.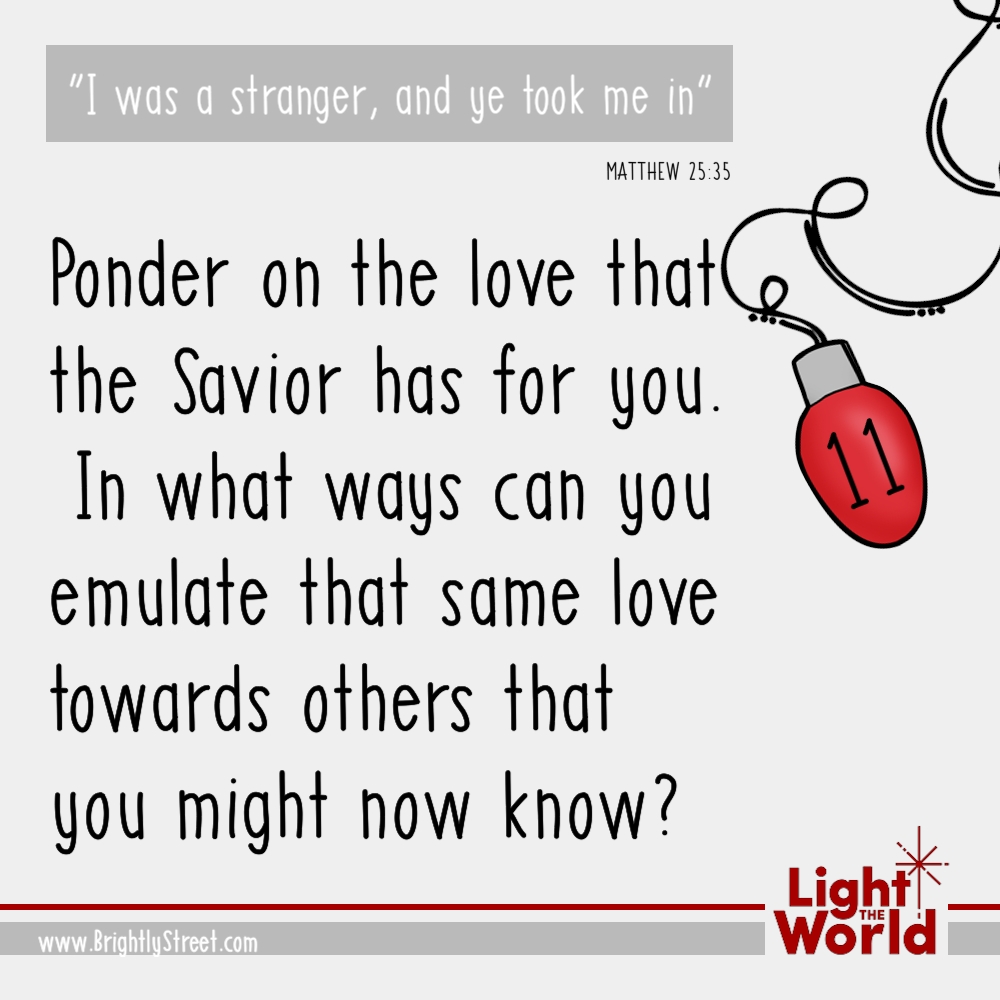 DAY 11:  Jesus Ministered To Children #LIGHTtheWORLD
Song:  I Saw Three Ships
Scripture:  Luke 18:15-17
And they brought unto him also infants, that he would touch them: but when his disciples saw it, they rebuked them.  But Jesus called them unto him, and said, Suffer little children to come unto me, and forbid them not: for of such is the kingdom of God.  Verily I say unto you, Whosoever shall not receive the kingdom of God as a little child shall in no wise enter therein.
Video:   Suffer the Little Children to Come unto Me
Activity:  As a Christmas gift, purchase a picture of Jesus Christ for your child's room. Teach your child of the Savior's love for them.
Advent Gift Idea:  Put a small picture of Christ in the pocket to have them put on the mirror in their bathroom to always remember while brushing their teeth, that just like brushing our teeth gets rid of germs, Jesus Christ can redeem us from our sins.  You can pick a picture from here and print it on your computer.  You can also add some small bubbles and talk about how the bubbles are made up of water and soap.  Explain how just like soap is used to wash our hands because Jesus died for us, he can also make us "clean."  The bubbles we blow can represent how being forgiven and washed clean can "lift" us up just like the bubbles floating in the air.
Want to put together the entire Christmas Advent Calendar?  Start with Step 1!
Follow us on FACEBOOK, INSTAGRAM, YOUTUBE, TWITTER and PINTEREST as well as Subscribe to our newsletter to get the inside scoop and subscriber only freebies!!