DAY 19: "Rejoice, and be exceeding glad." Matthew 5:12
Reflection Journal Entry:  Download the entire 25 daily reflection journal as you fill your "light" from within and "light the world" throughout in December and into 2018.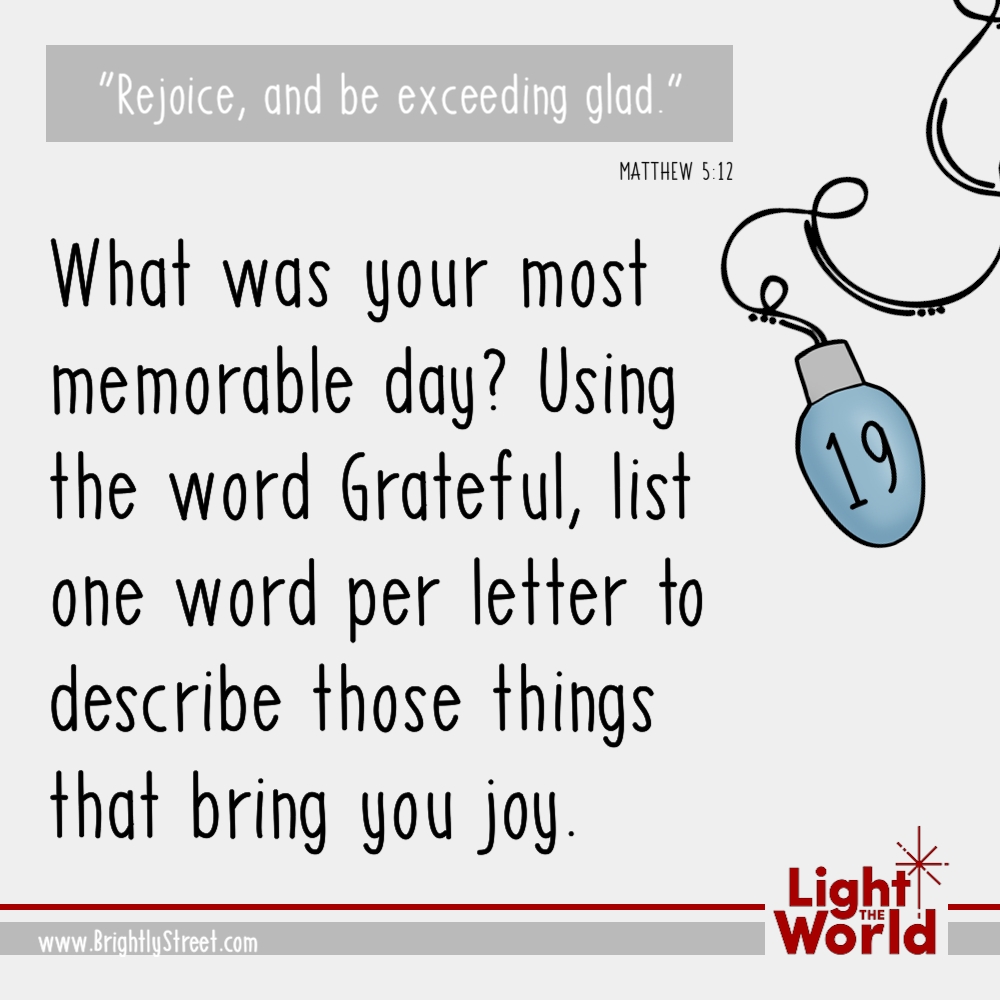 DAY 19:  Jesus Calmed the Storm # LIGHTtheWORLD
Song:  Savior of the World
Scripture: Mark 4:37-40
And there arose a great storm of wind, and the waves beat into the ship, so that it was now full.  And he was in the hinder part of the ship, asleep on a pillow: and they awake him, and say unto him, Master, carest thou not that we perish?  And he arose, and rebuked the wind, and said unto the sea, Peace, be still. And the wind ceased, and there was a great calm.  And he said unto them, Why are ye so fearful? how is it that ye have no faith?
Video:  Calming the Tempest
Activity:  Give your family or loved ones the gift of a 72-hour kit for emergencies.  We put together a 72-hour kit for the whole family with free child identification cards that you can attach to your 72-hour back packs.
Advent Gift Idea:  Put some stencils into a bag.  Have the children color, write or draw themselves a picture or letter.  Have them put it into their 72 hour kit backpack to give them comfort and a smile if their ever comes a time when they will need help "calming the storms" of their own life.  For ideas on 72 hour kits, visit our past blog series about putting them together.
Want to put together the entire Christmas Advent Calendar?  Start with Step 1!
Follow us on FACEBOOK, INSTAGRAM, YOUTUBE, TWITTER and PINTEREST as well as Subscribe to our newsletter to get the inside scoop and subscriber only freebies!!