DAY 20: "A man's life consisteth not in the abundance of the things which he possesseth." Luke 12:15
Reflection Journal Entry:  Download the entire 25 daily reflection journal as you fill your "light" from within and "light the world" throughout in December and into 2018.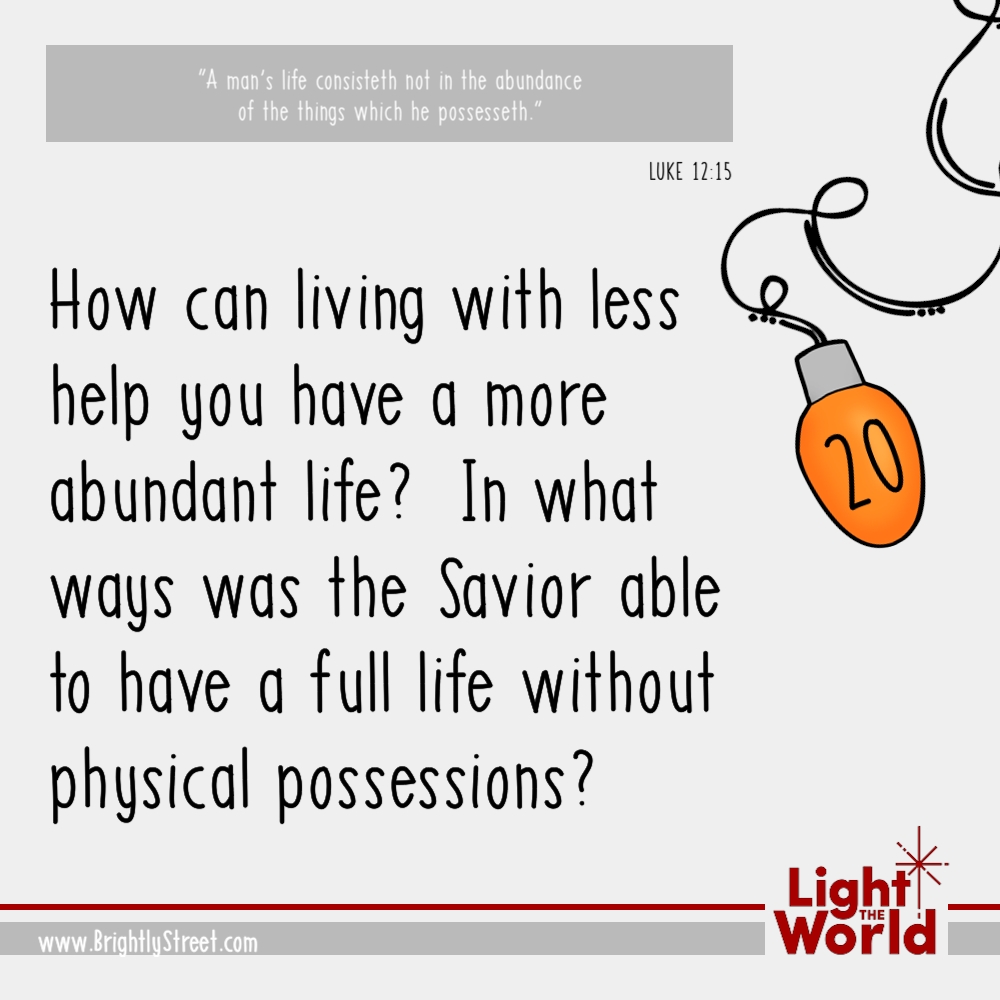 DAY 20:  Jesus Saw Potential in Others #LIGHTtheWORLD
Song:  Three Kings
Scripture: John 8:2-11
And early in the morning he came again into the temple, and all the people came unto him; and he sat down, and taught them.  And the scribes and Pharisees brought unto him a woman taken in adultery; and when they had set her in the midst, They say unto him, Master, this woman was taken in adultery, in the very act.  Now Moses in the law commanded us, that such should be stoned: but what sayest thou?  This they said, tempting him, that they might have to accuse him. But Jesus stooped down, and with his finger wrote on the ground, as though he heard them not.  So when they continued asking him, he lifted up himself, and said unto them, He that is without sin among you, let him first cast a stone at her.
And again he stooped down, and wrote on the ground.  And they which heard it, being convicted by their own conscience, went out one by one, beginning at the eldest, even unto the last: and Jesus was left alone, and the woman standing in the midst.  When Jesus had lifted up himself, and saw none but the woman, he said unto her, Woman, where are those thine accusers? hath no man condemned thee?  She said, No man, Lord. And Jesus said unto her, Neither do I condemn thee: go, and sin no more.
Video:  Go and Sin No More
Activity:  Cheer someone on! Attend an event (athletic, cultural, etc.) to support someone you know.
Advent Gift Idea:  I found a fun treasure activity at Target for each one of my children.  You have to chip at the sand in order to find the treasure inside.  That is what the Savior does for us.  He helps us find the treasures locked inside of us as we come to know and follow Jesus Christ's example.
Want to put together the entire Christmas Advent Calendar?  Start with Step 1!
Follow us on FACEBOOK, INSTAGRAM, YOUTUBE, TWITTER and PINTEREST as well as Subscribe to our newsletter to get the inside scoop and subscriber only freebies!!