DAY 23: "I was in prison, and ye came unto me." Matthew 25:36
Reflection Journal Entry:  Download the entire 25 daily reflection journal as you fill your "light" from within and "light the world" throughout in December and into 2018.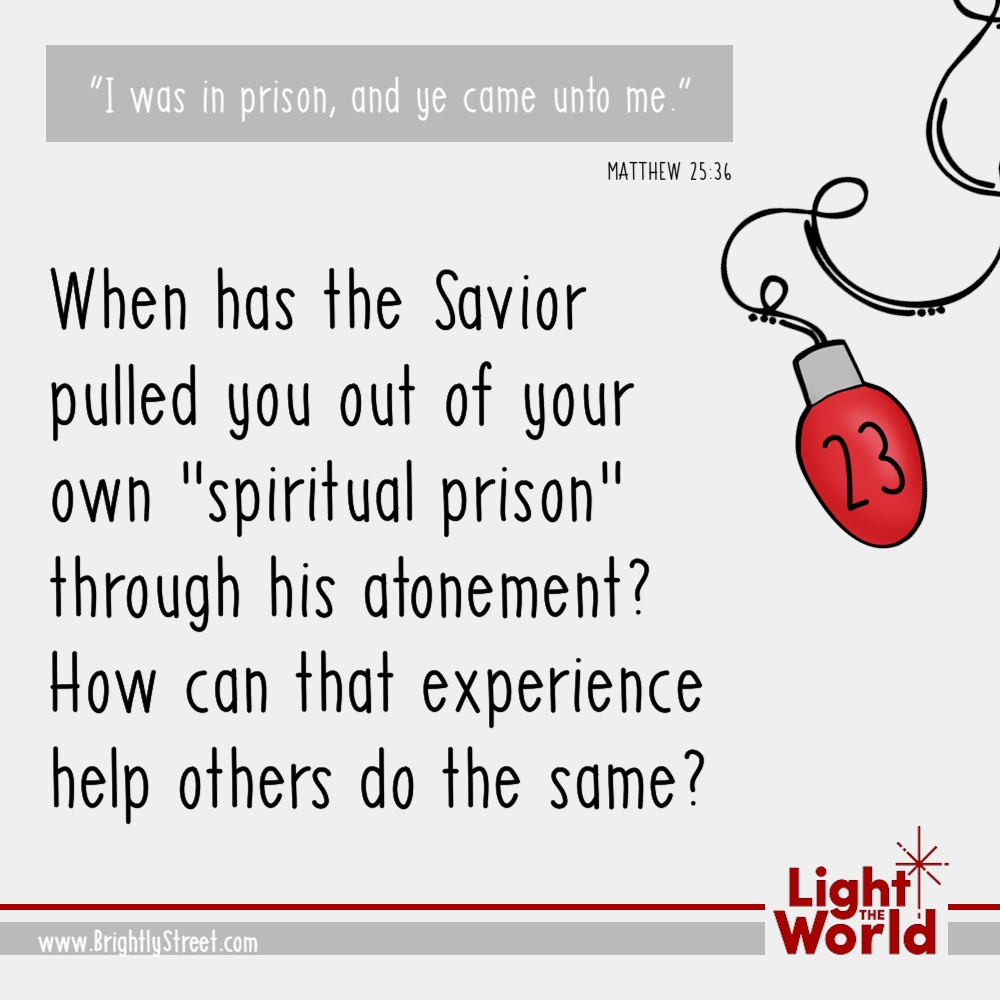 DAY 23:  Jesus was a Peacemaker #LIGHTtheWORLD
Song:  Angels We Have Heard On High
Scripture: Matthew 5:3-16
Blessed are the poor in spirit: for theirs is the kingdom of heaven.  Blessed are they that mourn: for they shall be comforted.  Blessed are the meek: for they shall inherit the earth.  Blessed are they which do hunger and thirst after righteousness: for they shall be filled.  Blessed are the merciful: for they shall obtain mercy.  Blessed are the pure in heart: for they shall see God.  Blessed are the peacemakers: for they shall be called the children of God.  Blessed are they which are persecuted for righteousness' sake: for theirs is the kingdom of heaven.
Blessed are ye, when men shall revile you, and persecute you, and shall say all manner of evil against you falsely, for my sake.  Rejoice, and be exceeding glad: for great is your reward in heaven: for so persecuted they the prophets which were before you.  Ye are the salt of the earth: but if the salt have lost his savour, wherewith shall it be salted? it is thenceforth good for nothing, but to be cast out, and to be trodden under foot of men.  Ye are the light of the world. A city that is set on an hill cannot be hid.
Neither do men light a candle, and put it under a bushel, but on a candlestick; and it giveth light unto all that are in the house.  Let your light so shine before men, that they may see your good works, and glorify your Father which is in heaven.
Video:  Sermon on the Mount: The Beatitudes
Activity:  Make a donation to help refugees from war-torn regions.
Advent Gift Idea:  Put some Reese's pieces into the pocket and talk about how your kids can bring "Piece" to the earth!  Ask them what things they can do today to be a peacemaker.
Want to put together the entire Christmas Advent Calendar?  Start with Step 1!
Follow us on FACEBOOK, INSTAGRAM, YOUTUBE, TWITTER and PINTEREST as well as Subscribe to our newsletter to get the inside scoop and subscriber only freebies!!