DAY 24: "Ye must watch and pray always." 3 Nephi 18:15
Reflection Journal Entry:  Download the entire 25 daily reflection journal as you fill your "light" from within and "light the world" throughout in December and into 2018.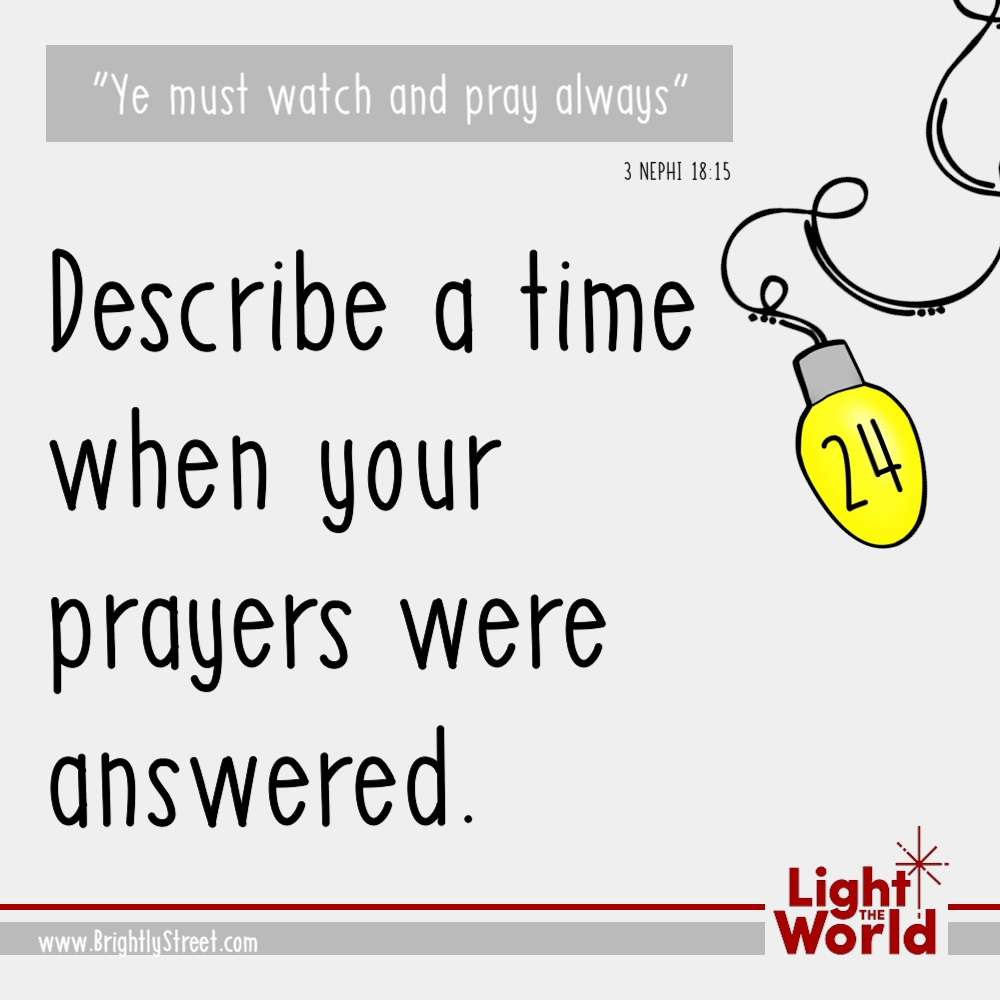 DAY 24:  Jesus Cared For His Loved Ones #LIGHTtheWORLD
Song:  The First Noel
Scripture: Matthew 10:1-5
And when he had called unto him his twelve disciples, he gave them power against unclean spirits, to cast them out, and to heal all manner of sickness and all manner of disease.  Now the names of the twelve apostles are these; The first, Simon, who is called Peter, and Andrew his brother; James the son of Zebedee, and John his brother; Philip, and Bartholomew; Thomas, and Matthew the publican; James the son of Alphæus, and Lebbæus, whose surname was Thaddæus; Simon the Canaanite, and Judas Iscariot, who also betrayed him.  These twelve Jesus sent forth, and commanded them, saying, Go not into the way of the Gentiles, and into any city of the Samaritans enter ye not.
Video:   Jesus Calls Twelve Apostles to Preach and Bless Others
Activity:  Plan a special Christmas Eve program with your family and friends.
Advent Gift Idea:  Put a 100 Grand mini candy bar in the pocket.  Talk about how sometimes it takes "money" to help take care of others.  Encourage your children to go to college and do well in school today so they can bless the lives of others tomorrow.
Want to put together the entire Christmas Advent Calendar?  Start with Step 1!
Follow us on FACEBOOK, INSTAGRAM, YOUTUBE, TWITTER and PINTEREST as well as Subscribe to our newsletter to get the inside scoop and subscriber only freebies!!