DAY 25: "Let your light so shine before men, that they may see your good works, and glorify your Father which is in heaven." Matthew 5:16
Video Coming Soon!
Reflection Journal Entry:  Download the entire 25 daily reflection journal as you fill your "light" from within and "light the world" throughout in December and into 2018.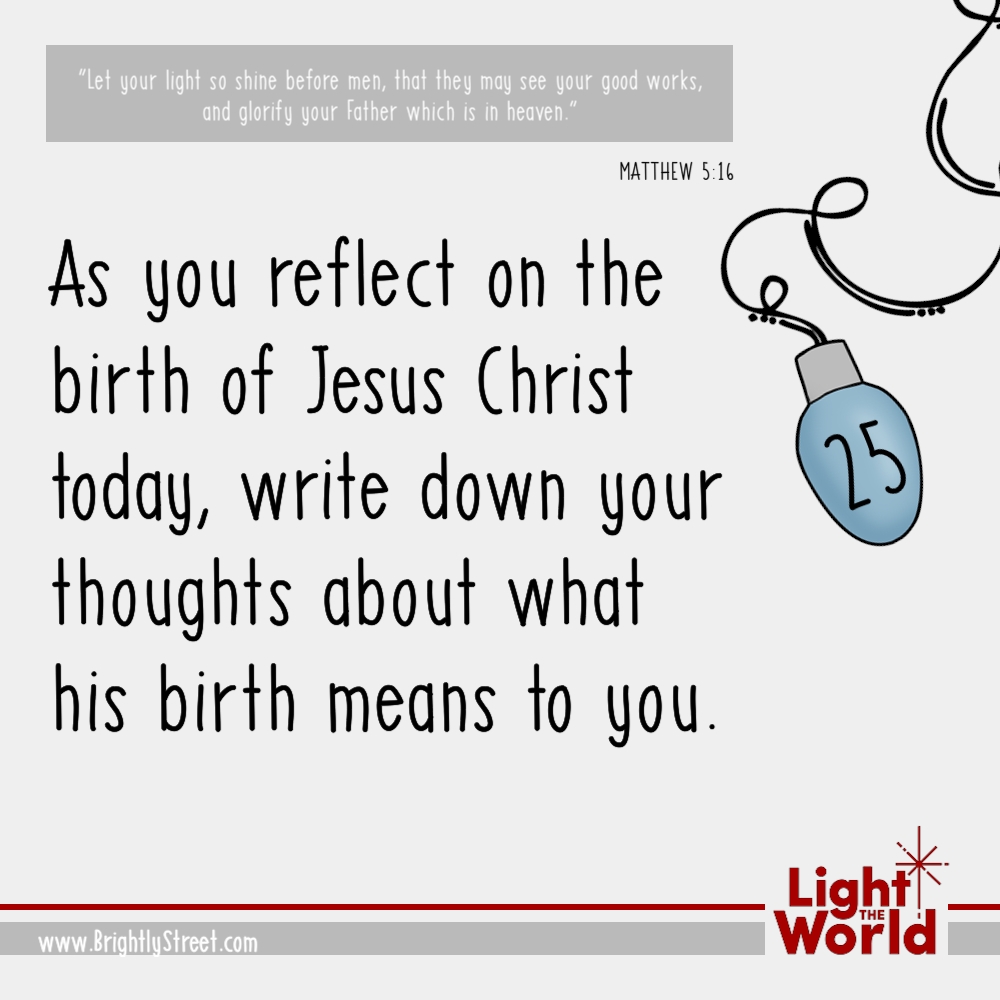 DAY 25:  Jesus's Disciples Followed Him #LIGHTtheWORLD
Song:  Silent Night
Scripture: Matthew 4:18-22
And Jesus, walking by the sea of Galilee, saw two brethren, Simon called Peter, and Andrew his brother, casting a net into the sea: for they were fishers.  And he saith unto them, Follow me, and I will make you fishers of men.  And they straightway left their nets, and followed him.  And going on from thence, he saw other two brethren, James the son of Zebedee, and John his brother, in a ship with Zebedee their father, mending their nets; and he called them.
And they immediately left the ship and their father, and followed him.
Video: Follow Me, and I Will Make You Fishers of Men
Activity:  Turn some of the 25 Days ideas from this month into New Year's resolutions.  Download our New Year's Resolution worksheet to help you accomplish your goals for 2017.  Just pick one goal per category and working on them one quarter of the year at a time, each quarter added to your current resolution!  Invite a friend to make a goal with you to help you stay on track.
Advent Gift Idea:  We are really excited about what we are creating for today!  We wanted something simple that would remind our children that Jesus Christ is the LIGHT of the WORLD.  Here's a small DIY Project that takes just a can, drill, battery-operated Christmas lights, hot glue and this printable below.  Here's what it looks like.
Optional Gift Idea:  If you are not crafty or do not have the time to make the "I CAN LIGHT THE WORLD" gifts, then print out this game and coloring page.  Wrap it up with some glitter crayons, a candy bar and tuck it under the Christmas tree.  To download the coloring page and game, go here.
I CAN LIGHT THE WORLD
Instructions:
Aluminum Can large enough to have room to put lights inside.  Remove paper.
Print one of the 8 design covers below.
Hole Punch where holes are located then place around can.  Using a sharpie, mark the holes.
Drill holes to fit all of your lights with the right size hole for your particular lights.
Hot Glue the lights inside the can peeking through the hole.
Wrap can cover around and tape in the back.  Use extra strip of paper on printable to fill in the gap if there is a gap around the backside of the can.
Want to put together the entire Christmas Advent Calendar?  Start with Step 1!
Follow us on FACEBOOK, INSTAGRAM, YOUTUBE, TWITTER and PINTEREST as well as Subscribe to our newsletter to get the inside scoop and subscriber only freebies!!