DAY 7:  "Suffer the little children to come unto me." Mark 10:14
Reflection Journal Entry:  Download the entire 25 daily reflection journal as you fill your "light" from within and "light the world" throughout in December and into 2018.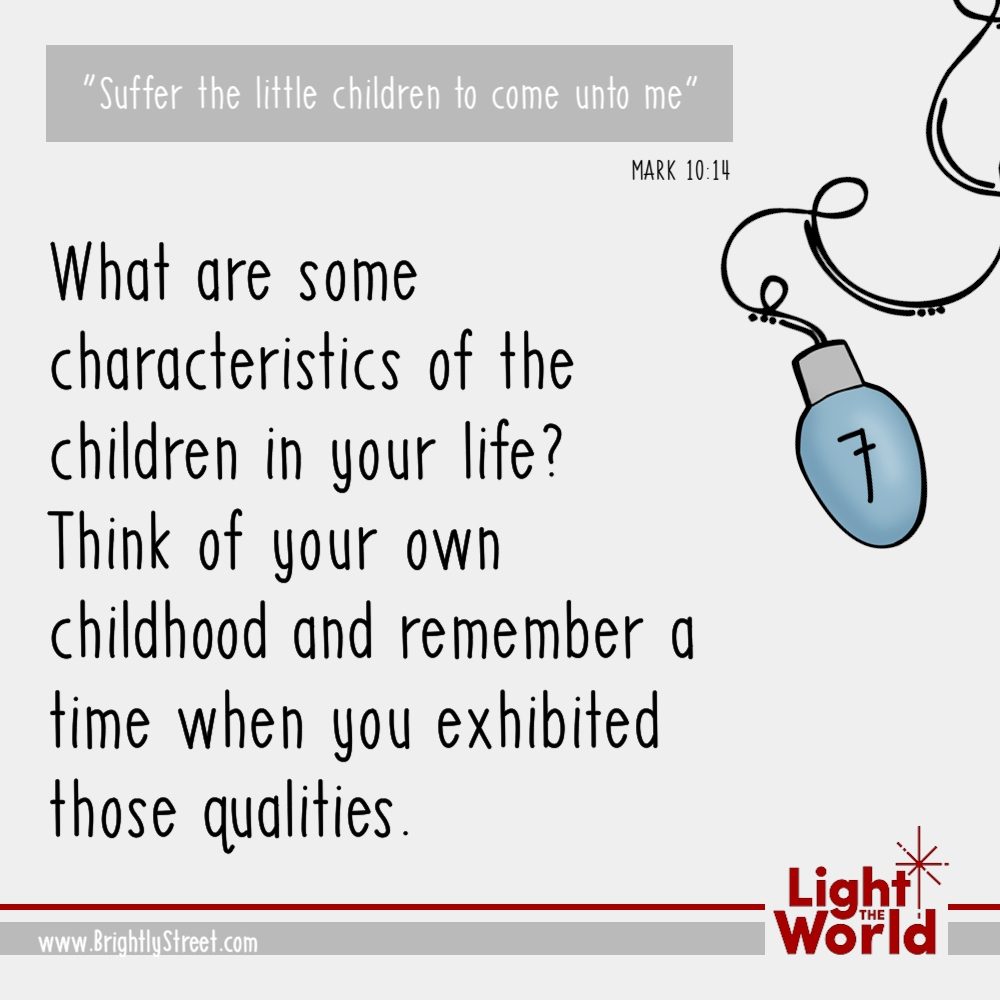 DAY 7:  Jesus Fed the Hungry #LIGHTtheWORLD
Song:  Little Drummer Boy
Scripture:  Matthew 14:13-21
When Jesus heard of it, he departed thence by ship into a desert place apart: and when the people had heard thereof, they followed him on foot out of the cities.  And Jesus went forth, and saw a great multitude, and was moved with compassion toward them, and he healed their sick.  And when it was evening, his disciples came to him, saying, This is a desert place, and the time is now past; send the multitude away, that they may go into the villages, and buy themselves victuals.
But Jesus said unto them, They need not depart; give ye them to eat.  And they say unto him, We have here but five loaves, and two fishes. He said, Bring them hither to me. And he commanded the multitude to sit down on the grass, and took the five loaves, and the two fishes, and looking up to heaven, he blessed, and brake, and gave the loaves to his disciples, and the disciples to the multitude.
And they did all eat, and were filled: and they took up of the fragments that remained twelve baskets full.
21  And they that had eaten were about five thousand men, beside women and children.
Video:   The Feeding of the 5000
Activity:  Follow the directions on our website and make a Homeless Sock Kit.  Keep it in your car and when you see someone in need, give it to them.
Advent Gift Idea:  Put some chocolate coins inside the pocket and tell them that they can save their money to help purchase more homeless socks in the future or give their change to the Salvation Army people that are in front of a lot of stores during Christmas.
Want to put together the entire Christmas Advent Calendar?  Start with Step 1!
Follow us on FACEBOOK, INSTAGRAM, YOUTUBE, TWITTER and PINTEREST as well as Subscribe to our newsletter to get the inside scoop and subscriber only freebies!!