DAY 8:  "Love your enemies, bless them that curse you, do good to them that hate you, and pray for them which despitefully use you." Matthew 5:44
Reflection Journal Entry:  Download the entire 25 daily reflection journal as you fill your "light" from within and "light the world" throughout in December and into 2018.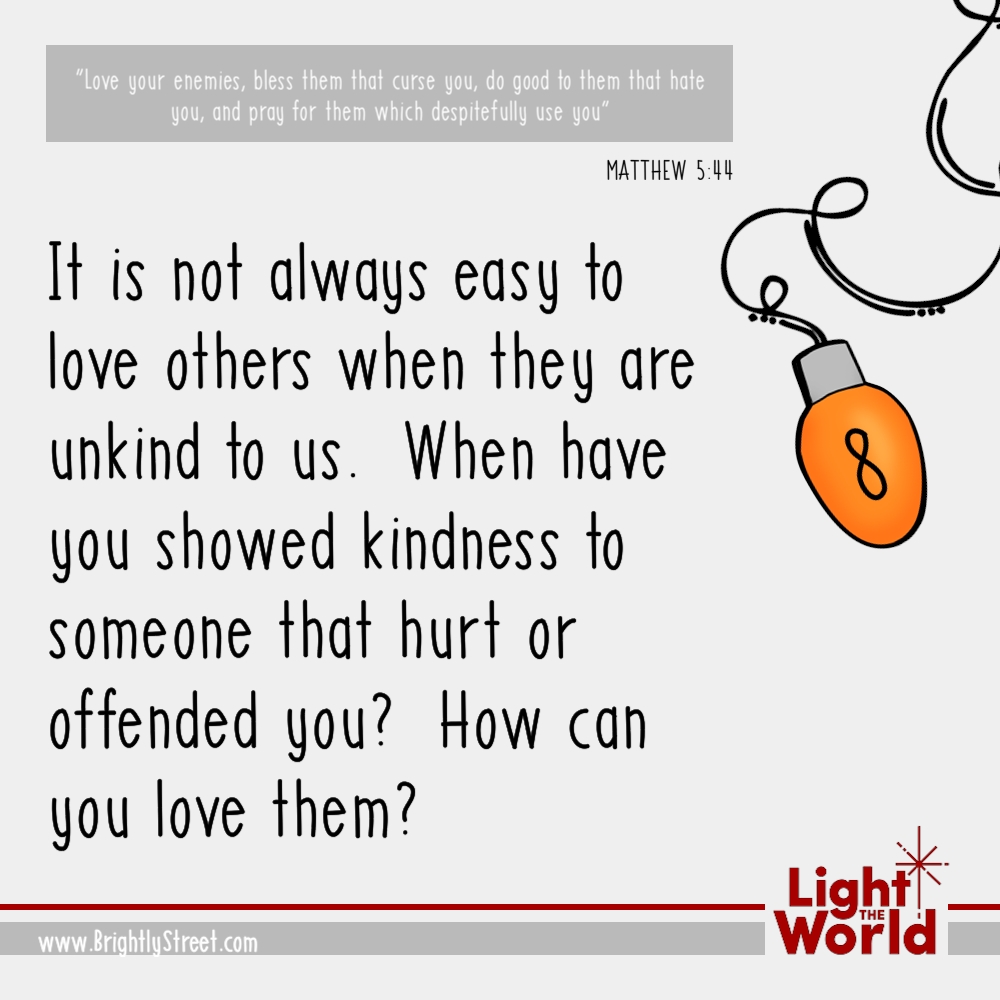 DAY 8:  Jesus Taught Us to Pray #LIGHTtheWORLD
Song:  The Prayer
Scripture:  Matthew 6:1-13
Take heed that ye do not your alms before men, to be seen of them: otherwise ye have no reward of your Father which is in heaven. Therefore when thou doest thine alms, do not sound a trumpet before thee, as the hypocrites do in the synagogues and in the streets, that they may have glory of men. Verily I say unto you, They have their reward. But when thou doest alms, let not thy left hand know what thy right hand doeth: That thine alms may be in secret: and thy Father which seeth in secret himself shall reward thee openly.
And when thou prayest, thou shalt not be as the hypocrites are: for they love to pray standing in the synagogues and in the corners of the streets, that they may be seen of men. Verily I say unto you, They have their reward. But thou, when thou prayest, enter into thy closet, and when thou hast shut thy door, pray to thy Father which is in secret; and thy Father which seeth in secret shall reward thee openly. But when ye pray, use not vain repetitions, as the heathen do: for they think that they shall be heard for their much speaking. Be not ye therefore like unto them: for your Father knoweth what things ye have need of, before ye ask him.
After this manner therefore pray ye: Our Father which art in heaven, Hallowed be thy name. Thy kingdom come. Thy will be done in earth, as it is in heaven. Give us this day our daily bread. And forgive us our debts, as we forgive our debtors. And lead us not into temptation, but deliver us from evil: For thine is the kingdom, and the power, and the glory, for ever. Amen.
Video:   Sermon on the Mount: The Lord's Prayer
Activity:  Ask God how you can be an answer to someone else's prayer.
Advent Gift Idea:  Put a rock in the pocket for each child.  Have them paint the words "PRAYER" and put it by their bed to remember to pray everyday and to make God the foundation or "rock" of their life.  Add this simple ice cream coupon as well.  Take them out to eat some "Rocky Road" ice cream or purchase ice cream and eat it at home.  Talk about how without Christ in our life we will experience a very "Rocky Road" as we try to navigate without him!
Want to put together the entire Christmas Advent Calendar?  Start with Step 1!
Follow us on FACEBOOK, INSTAGRAM, YOUTUBE, TWITTER and PINTEREST as well as Subscribe to our newsletter to get the inside scoop and subscriber only freebies!!
A Special Christmas Gift for you.  Take 15% off our Etsy Shop during the Month of December!