"Elf or Lamb?"
Are you tired of the mischievous little "Elf on the Shelf?"  Why not try out the "Little Lamb from Bethlehem" instead?
We were introduced to the "Little Lamb from Bethlehem" earlier this month when Deseret Book donated one to a lucky winner at the Pinners Conference in Scottsdale.  I hope Yolanda and her family are enjoying the gift!  My amazingly talented, 16 year old, niece made her debut at this event.   If you need a one-of-a-kind Christmas stocking stuffer, visit her shop here.  You will not be disappointed.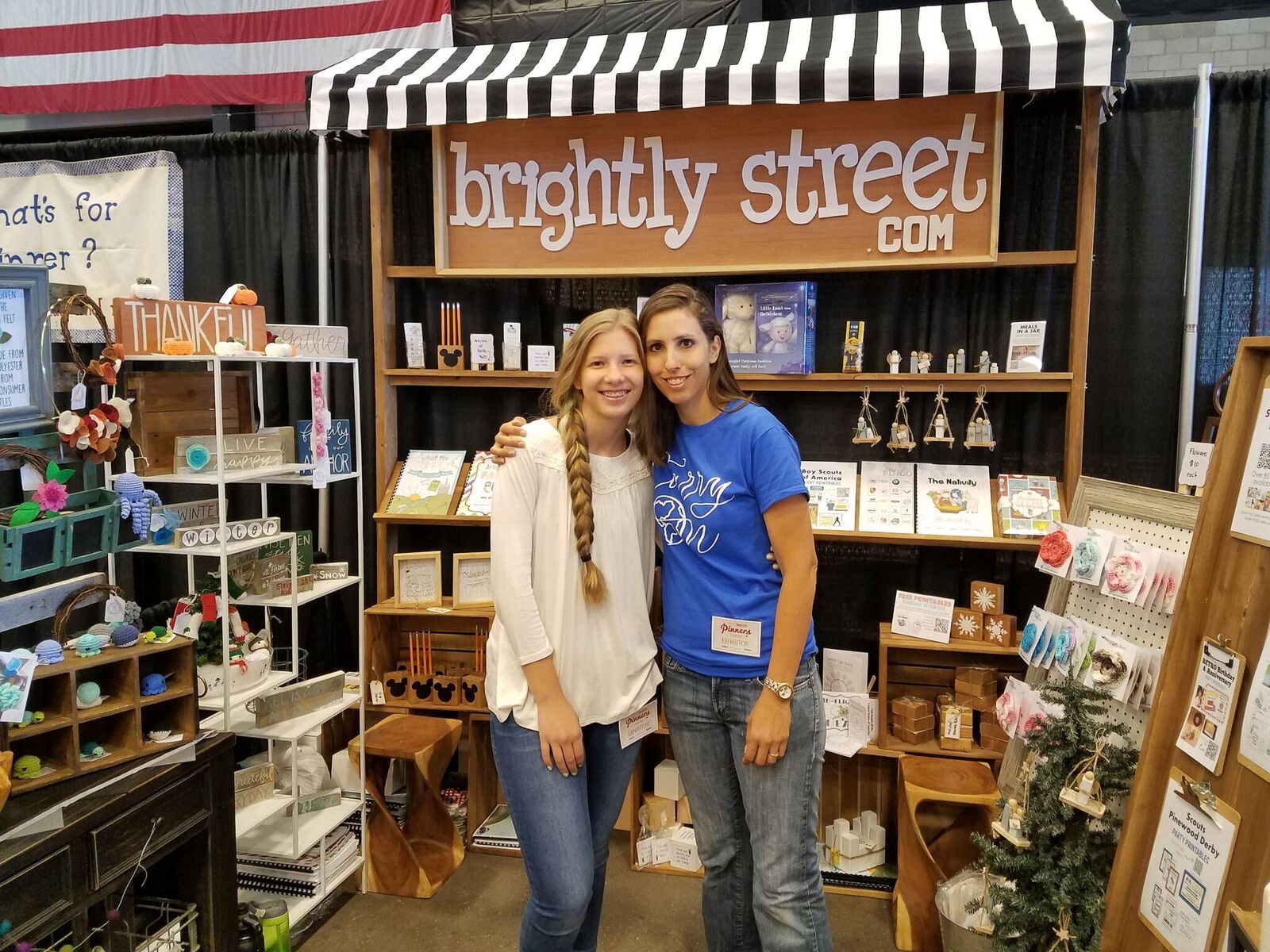 What is the "Little Lamb from Bethlehem?"
When you purchase your little lamb, it will come with a book and plush toy.  My children all love the lamb and my youngest one has carried it with her to the library, Halloween parade, to bed, riding in the car and just wherever she goes you will find her little lamb shadow.  Here's a picture from just the other day posted on our Instagram account.  Follow us on Instagram to see where this little lamb takes us this Christmas!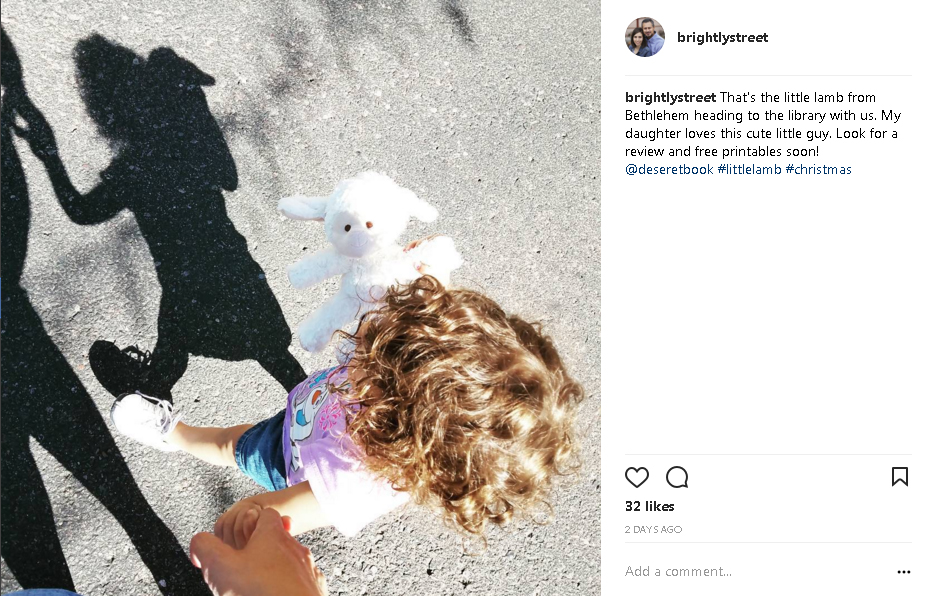 Here is a little bit more about how to use the little lamb from Deseret Book.
"I have come to your home from a land far away to tell you a true story. It's a story of something that happened in my little town many years ago…"
The Little Lamb from Bethlehem tells the story of Jesus's miraculous birth from the perspective of one of the lambs in the stable on that sacred night. The lamb loved baby Jesus, and as they both grew, the lamb promised to share Christ's story with everyone. Now the Little Lamb can teach your family about the Savior's life and share ways to follow His example and serve others throughout the Christmas season. Make Christmas more meaningful as you use this little plush lamb to learn of the Savior, serve others, and celebrate the true spirit of the season with this new Christ-centered tradition!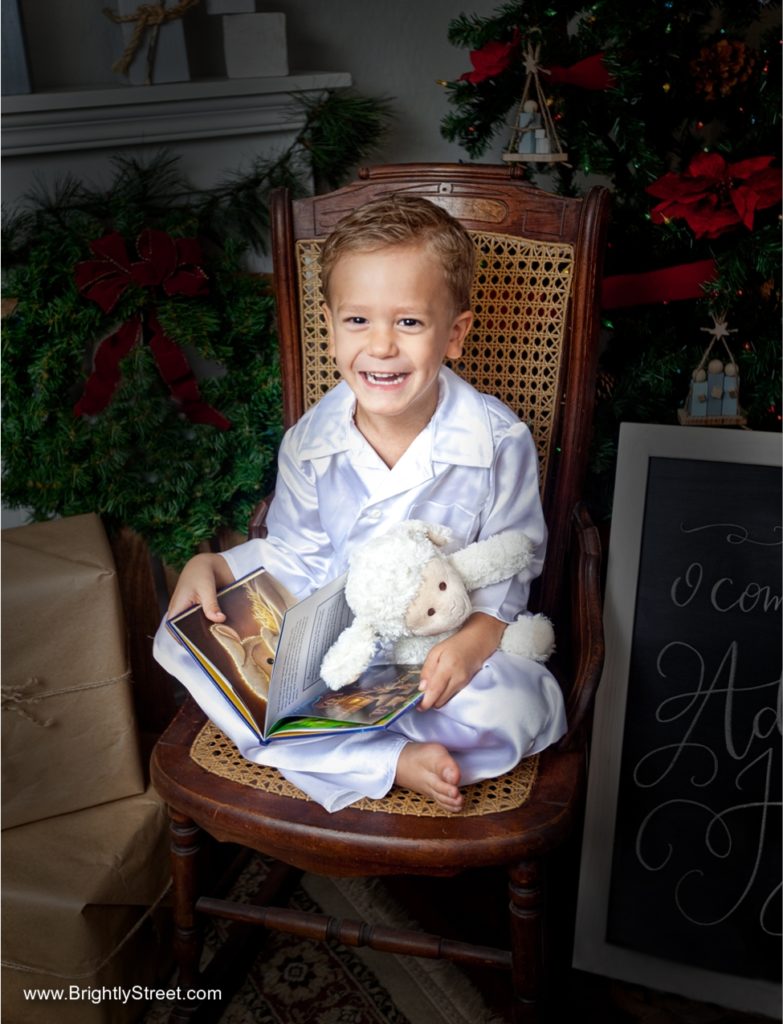 Ideas to get started:
Once a week leading up to Christmas, invite a new friend to dinner with your family, and share Little Lamb's story of the Savior with them.
Include the lamb in the nativity scene you act out with your family.
Create a photo album with the Little Lamb as you take it to do service at a nursing home.
Read Luke 2:13-14.  See below for our Luke 2 booklet to help you memorize and illustrate the birth of Jesus Christ.
Designed to fit your family's needs!
Weekly or daily activity options available (ideas enclosed in box)
Or choose to use the lamb as a simple reminder of the season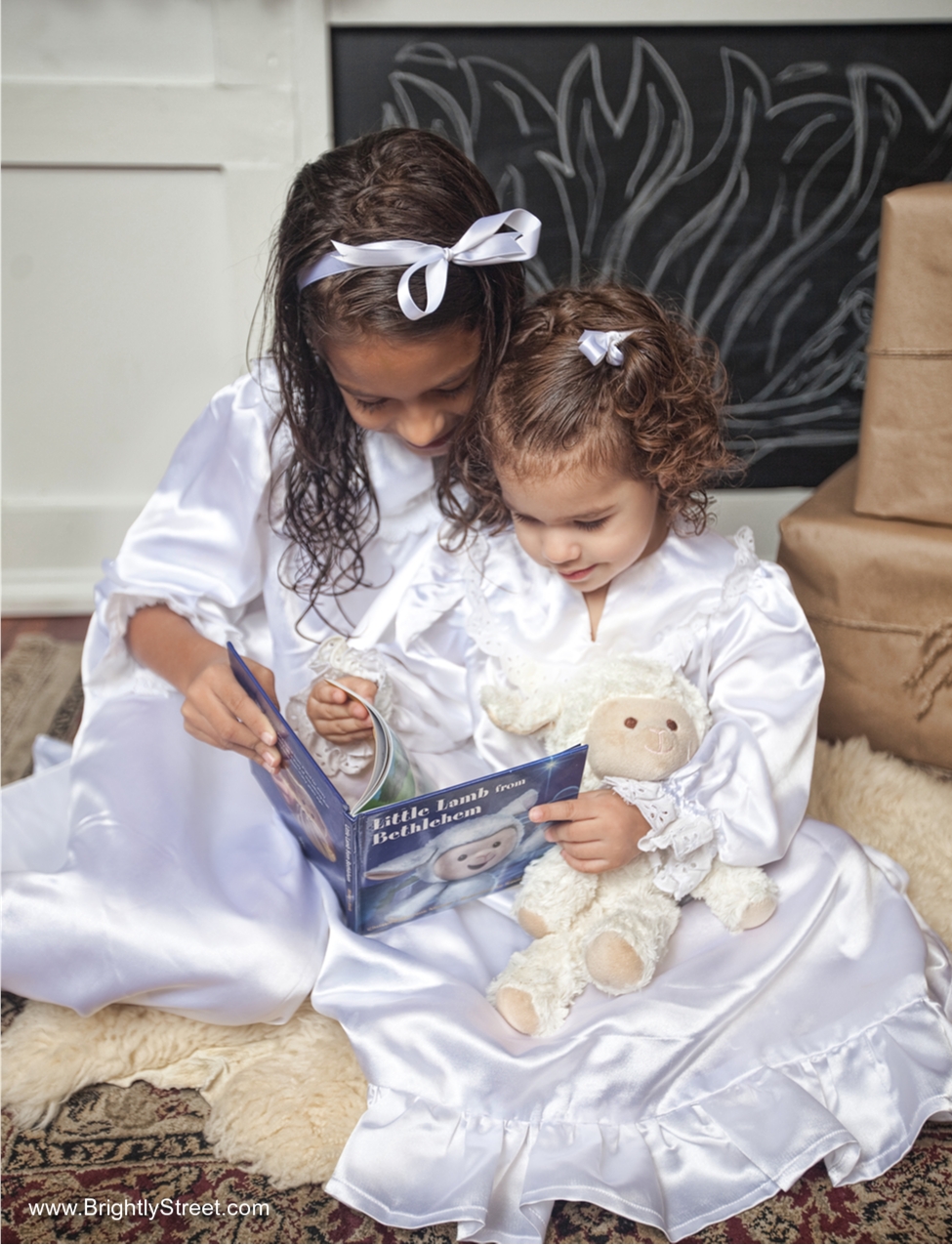 What Are We Going to Be Doing with the Little Lamb?
Two years ago, my family and I decided to start to memorize Luke 2 during the month of December.  So far we have only memorized a few verses, but by "small and simple" means are great things accomplished.  Maybe by the time they are parents, they can recite it by memory to their children and if not at least we pointed them to the true meaning of Christmas during the holiday season.
I added the little lamb to our Luke 2 booklets and you can download it free right here!  If you want to download the cursive or blank pages of this same booklet, Subscribe to our website and we will send it to you in our Monthly Newsletter.
Each day starting on December 1st, my kids will trace the words from Luke 2 in their booklets and draw a picture of their interpretation of that passage of scripture.  Even if they are too young to memorize the scriptures or do not want too, they can still have fun illustrating the story and you can set the example and try to memorize it yourself!  This will make a great keepsake for your children that they can later use when reading the story of Christ's birth when they are parents.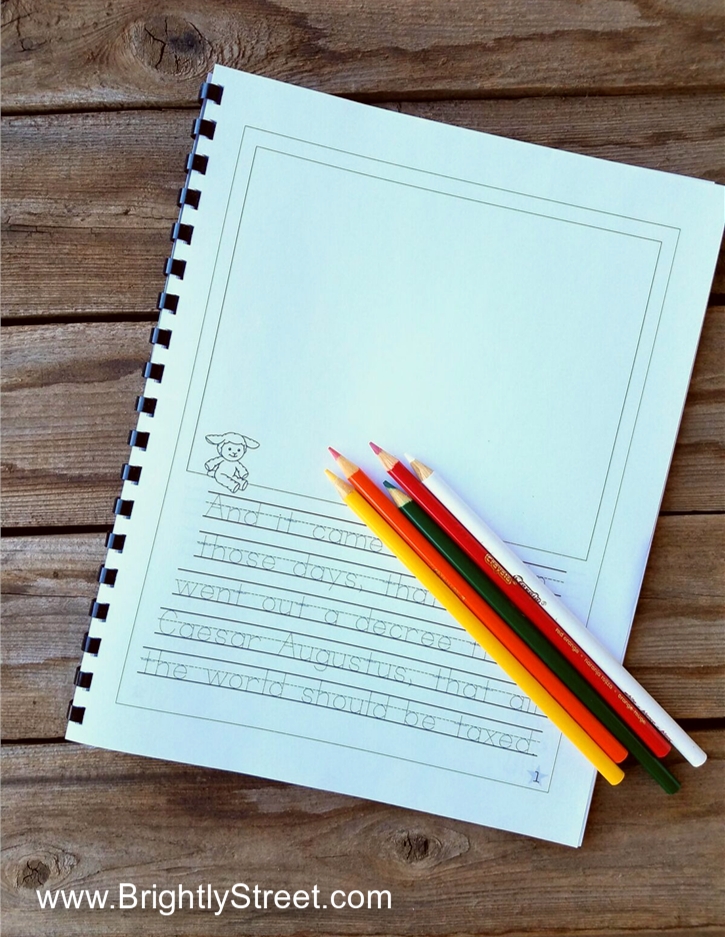 Download "Little Lamb from Bethlehem" Booklet

Spirit of Service
Do you want your children to feel the true spirit of Christmas?  Find ways to serve others.  Last year, our family participated in "Light the World" with service during the month of December.  We will focus again this December on service and I created this simple service idea to go along with your little lambs.  I came up with this short little thought that says,
"Over 2,000 years ago in Bethlehem, a new 'star burst' from heaven as angels sang, 'Glory to God in the highest, and on earth peace, good will toward men.'"
Use it as a door sign and ding dong ditch a neighbor, put together these cute treat tags with starburst and keep them in the car.  Leave them on someone's car in the parking lot, on a neighbor's door, friends at school, co-workers and just about anywhere.  Everyone can use a little Christmas cheer this year.  It will surely bring a smile to their faces.
Note:  If you use the door signs and attach the starburst to the backside, don't cut the circle line out so that the paper is stronger.  Make sure you print on card stock and even laminate it for extra strength!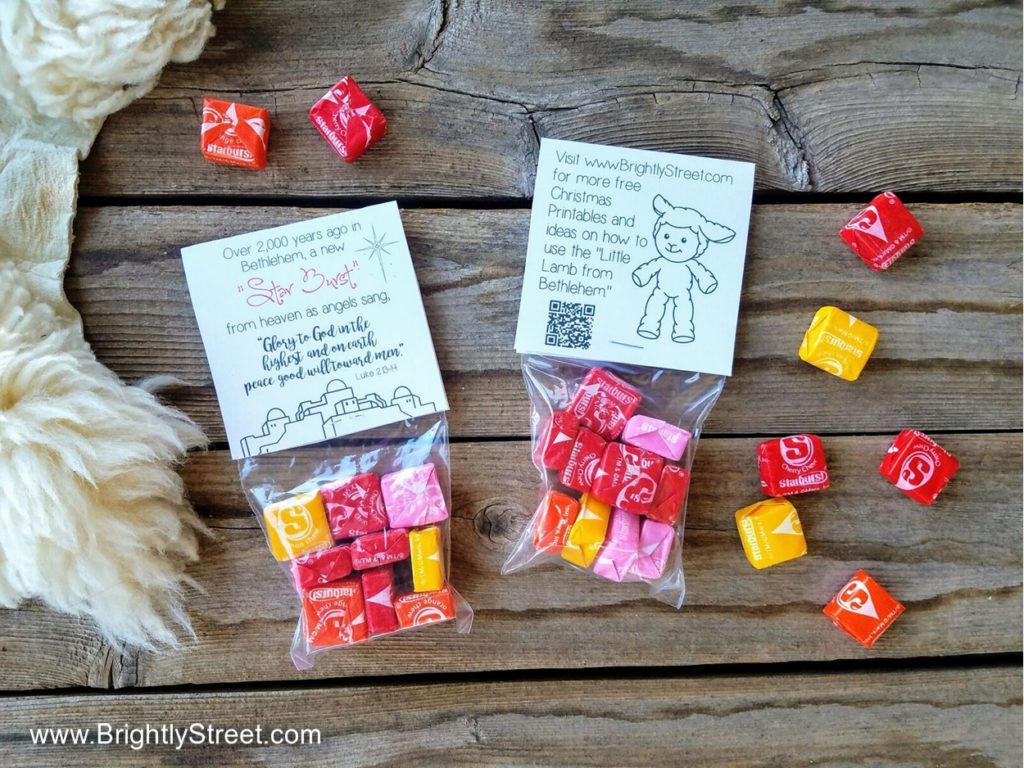 Download "Little Lamb from Bethlehem" door signs.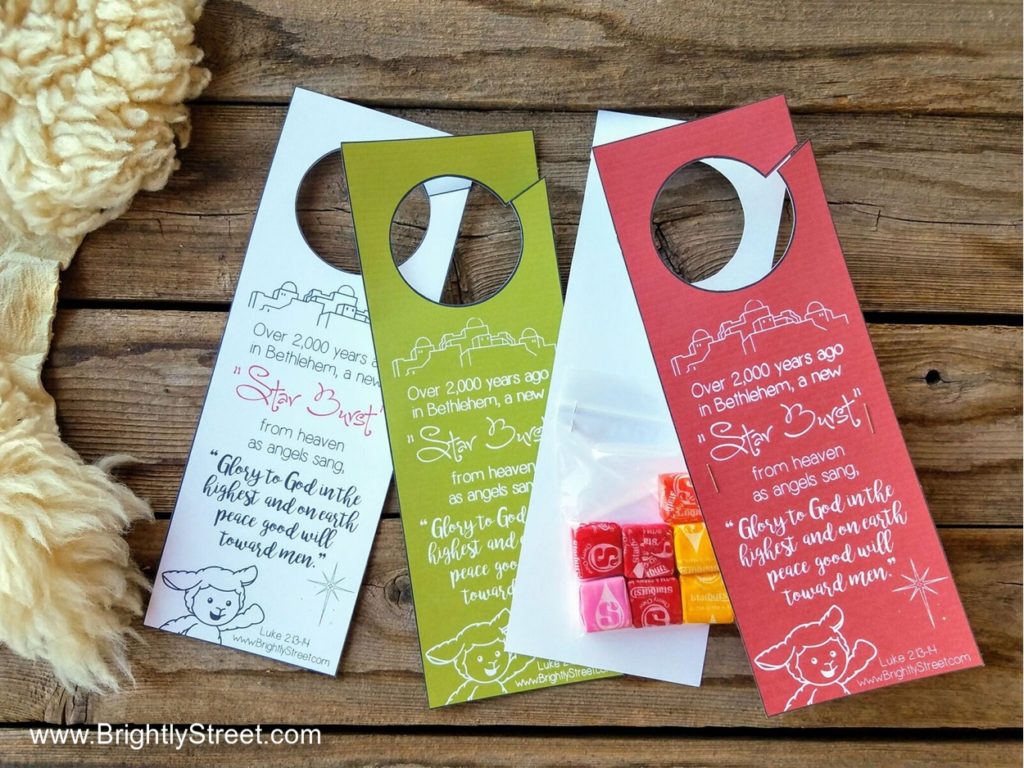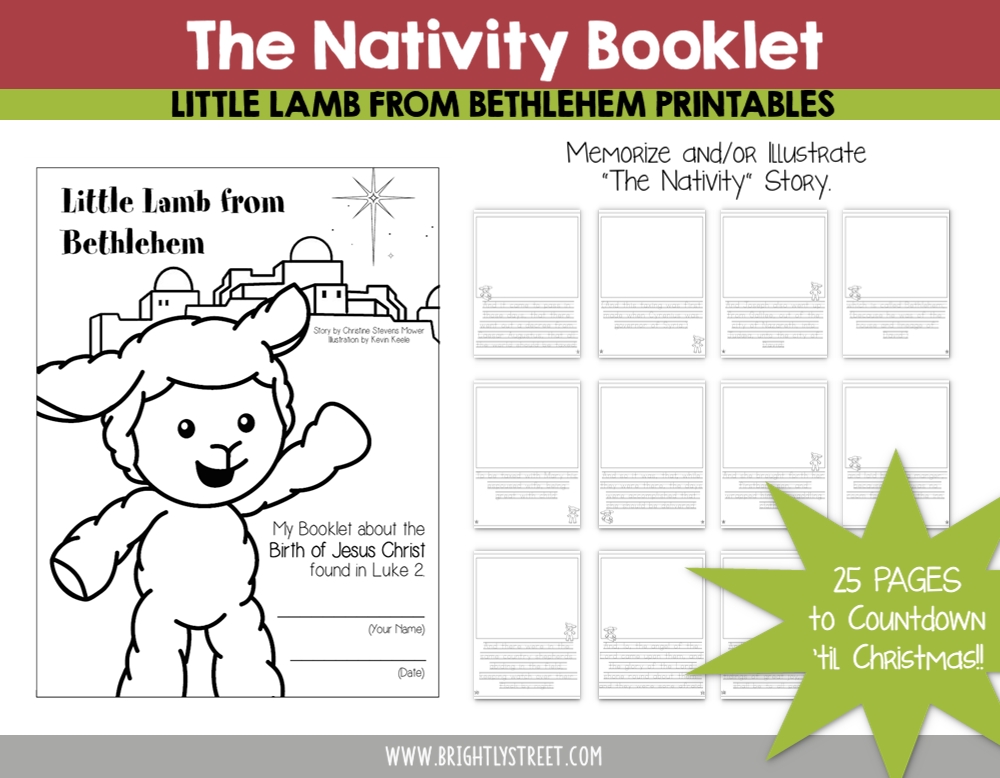 Please share your pictures when using our products and tag us @brightlystreet and use the hashtag #littlelamb.
Purchase the "Little Lamb from Bethlehem"
Grab the little lamb and book only from Deseret Book today! Click on the image below to purchase your little lamb.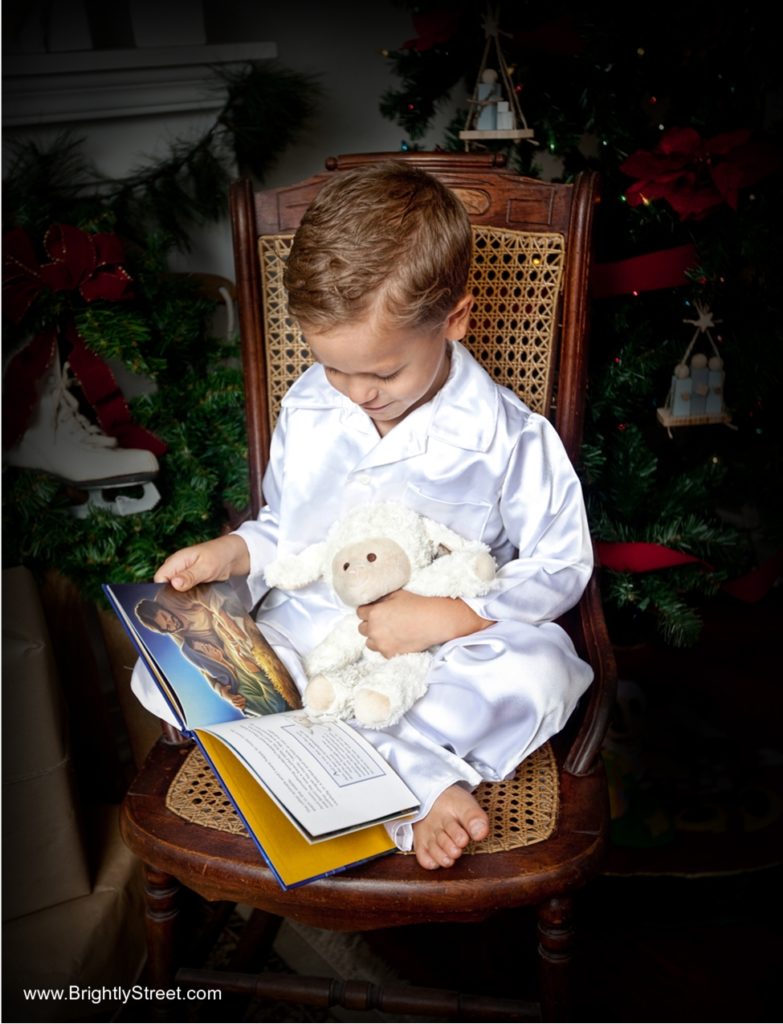 Stress-free Christmas
I know how busy the Christmas season can be and last year just about knocked my socks off with all of the many things I was working on for You!  Make sure to take advantage of the many Free Printables and ideas to help bring the Spirit of Christmas into your home.  Our Christmas Advent Calendar is back by popular demand so take a peek and get it ready today.  Need a gift for someone else?  Why not try our free printable "Christmas in a Box?"
As we roll into the holiday season, may we take a moment to count our blessings and be grateful for the true reason of the season!