DAY 10:  "Search the scriptures." John 5:39
Reflection Journal Entry:  Download the entire 25 daily reflection journal as you fill your "light" from within and "light the world" throughout in December and into 2018.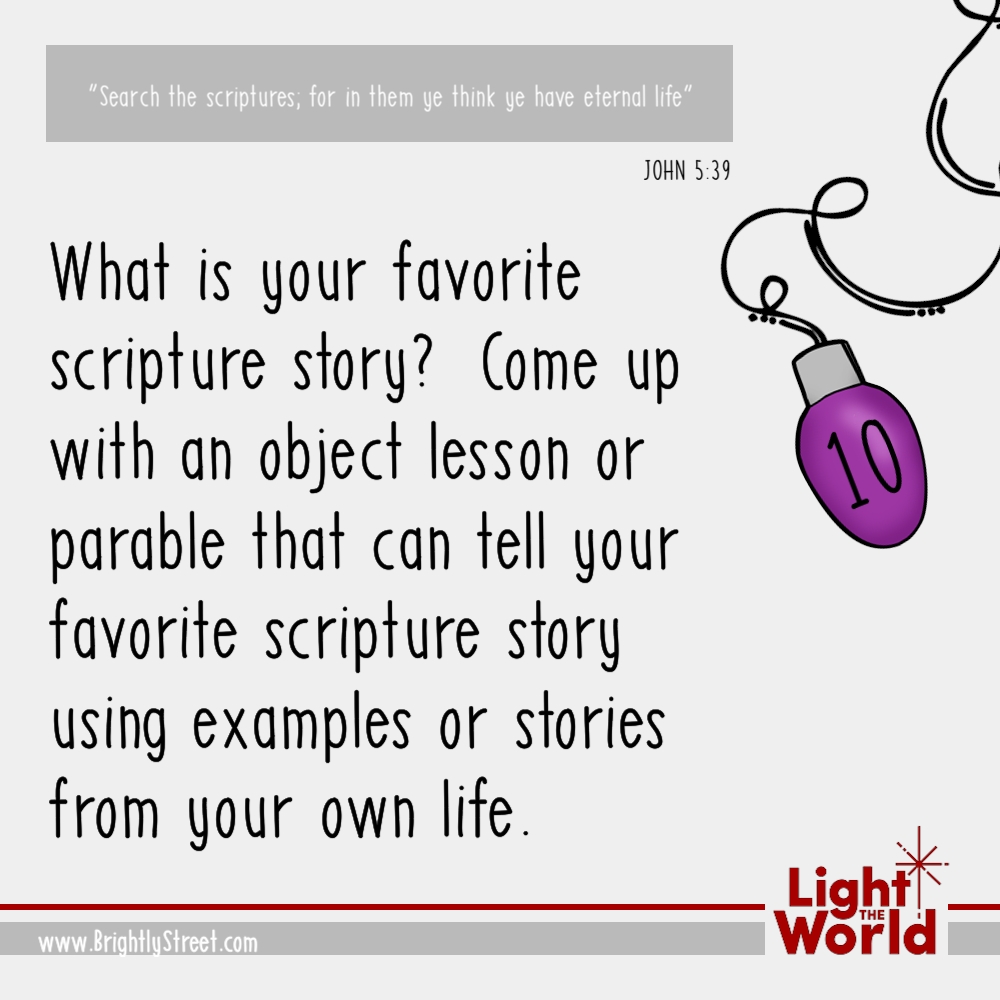 DAY 10:  Jesus Helped People to Walk #LIGHTtheWORLD
Song:  Ding Dong Merrily on High
Scripture:  John 5:2-12
Now there is at Jerusalem by the sheep market a pool, which is called in the Hebrew tongue Bethesda, having five porches. In these lay a great multitude of impotent folk, of blind, halt, withered, waiting for the moving of the water. For an angel went down at a certain season into the pool, and troubled the water: whosoever then first after the troubling of the water stepped in was made whole of whatsoever disease he had.
And a certain man was there, which had an infirmity thirty and eight years. When Jesus saw him lie, and knew that he had been now a long time in that case, he saith unto him, Wilt thou be made whole? The impotent man answered him, Sir, I have no man, when the water is troubled, to put me into the pool: but while I am coming, another steppeth down before me.  Jesus saith unto him, Rise, take up thy bed, and walk.
And immediately the man was made whole, and took up his bed, and walked: and on the same day was the sabbath.  The Jews therefore said unto him that was cured, It is the sabbath day: it is not lawful for thee to carry thy bed.  He answered them, He that made me whole, the same said unto me, Take up thy bed, and walk.  Then asked they him, What man is that which said unto thee, Take up thy bed, and walk?
Video:   Jesus Heals a Lame Man on the Sabbath
Activity:  Learn more about the LDS Wheel Chair Program.
Advent Gift Idea:  Print out the "What can I do today to 'walk' in Jesus Christ's footsteps?" worksheet.  Roll it up and attach a marker to it.  Have your children trace their foot on the print out and write down what things they can do to be more like Jesus Christ and walk in his footsteps.
Want to put together the entire Christmas Advent Calendar?  Start with Step 1!
Follow us on FACEBOOK, INSTAGRAM, YOUTUBE, TWITTER and PINTEREST as well as Subscribe to our newsletter to get the inside scoop and subscriber only freebies!!