DAY 9:  "I was sick, and ye visited me." Matthew 25:36
Reflection Journal Entry:  Download the entire 25 daily reflection journal as you fill your "light" from within and "light the world" throughout in December and into 2018.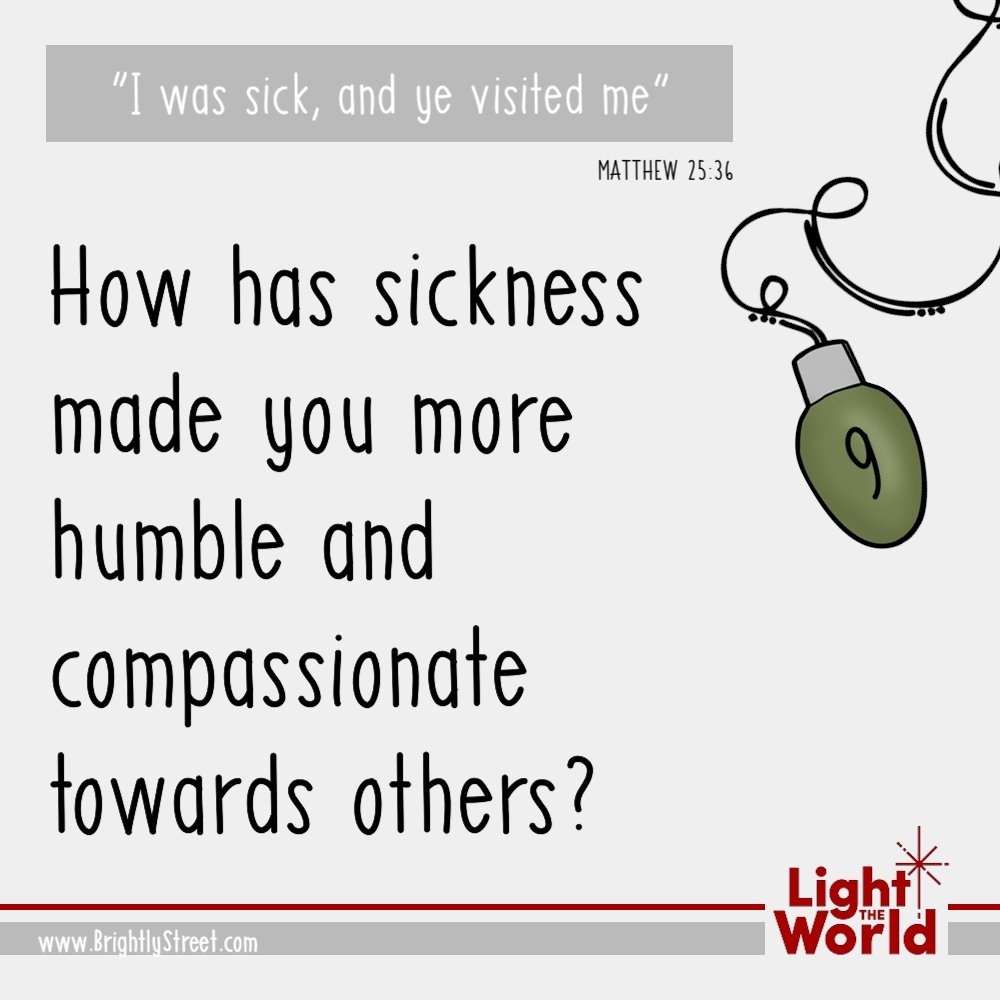 DAY 9:  Jesus Visited the Lonely #LIGHTtheWORLD
Song:  Hallelujah
Scripture:  Luke 15:2-7
And the Pharisees and scribes murmured, saying, This man receiveth sinners, and eateth with them.  And he spake this parable unto them, saying, What man of you, having an hundred sheep, if he lose one of them, doth not leave the ninety and nine in the wilderness, and go after that which is lost, until he find it? And when he hath found it, he layeth it on his shoulders, rejoicing.
And when he cometh home, he calleth together his friends and neighbours, saying unto them, Rejoice with me; for I have found my sheep which was lost.  I say unto you, that likewise joy shall be in heaven over one sinner that repenteth, more than over ninety and nine just persons, which need no repentance.
Video:   Parables of Jesus: The Parable of the Lost Sheep
Activity:   Put together "A Christmas in a Box" for someone that is lonely like in a nursing home, relative or neighbor. Everything you need to put one together can be downloaded here.
Advent Gift Idea:  Add these do-it-yourself ornaments for your kids to paint and give to a neighbor or someone else that might be lonely this time of year.
Want to put together the entire Christmas Advent Calendar?  Start with Step 1!
Follow us on FACEBOOK, INSTAGRAM, YOUTUBE, TWITTER and PINTEREST as well as Subscribe to our newsletter to get the inside scoop and subscriber only freebies!!